Announcement
Posted by
Jon McUne
on Mar 18 2019 at 05:00PM PDT
More editing options
The Official's Corner:
KNOW YOUR ROLE!
You can only be one........
Are you a Coach Today? Are you a Spectator Today? Are you an Official Today? Are you a Player Today?
Let the Coaches Coach, the Officials Officiate, and the Kids Play!

by: John N. Graham, Rogue Valley Football, Commissioner of Officials

Rogue Valley Youth Football, what a great program for our youth
footballers. From the league organization through the Local Officers,
Players, Coaches, Fans and Game Officials I thank you for your efforts to
make youth football a positive experience. Everyone should benefit from the
experience. I encourage everyone interested in youth sports to go to a
game, find the League Officer and tell them what a great job they are doing.
I would tell you to do the same for Coaches, but they are very busy on game
day. Find a time to send them a note of thank you for helping all of the
footballers benefit from the experience.

Let's see how things are for the guys in stripes. There are 15 football
games each week-end (Saturdays and Sundays) with an average of 3 officials
on the field (more regularly volunteer for the experience). That is
forty-five official game assignments with an average of 65 plays per game.
Every play has multiple rule enforcement considerations by the officiating
crew. To get them right as often as possible, the officials must work
together as 'team'. This team goes into each game with a game management
plan. Like life, those plans will change during the game. Sometimes those
changes influence the game flow.

As a fan, parent and game official, I know there are many situations in and
around the game that can distract from the purpose of the game. One of
these situations presented itself on Sunday. I thought you should know
about it.

During a very competitive and fun game to officiate, a fan on the sideline
made a threatening statement to a game official. The fan was immediately
ejected from the facility, but the damage was done. Once again, a fan's
actions disrupted the smooth flow of a youth football game. The incident
was reported to the league office which has a no tolerance plan for this
type of action.

The reminder I get is simple, THIS IS A YOUTH FOOTBALL GAME. It is for and
about a positive learning experience for our youth.


John N. Graham
Commissioner
Rogue Valley Sports Officials


+*+*+*+*+*+*+*+*+*+*+*+*+*+*+*+*+*+*+*+*+*+*+*+*+*+*+*+*+*+*+*+*+*+*+*+*+*+*+*+*+*+*+*+*+*+*+*+*+*+*+*+*+*+*+*+*+*+*+*+*+*+*+*+*+*+*+*+*+*+*+*+*+*+*+*+*+*+*+*+*+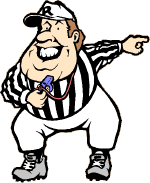 Comments
There are no comments for this announcement.