Announcement
Posted by
Jon McUne
on Mar 28 2019 at 05:00PM PDT
More editing options
The Official's Corner:
KNOW YOUR ROLE!
You can only be one.......
Are you a Coach Today? Are you a Spectator Today? Are you an Official Today? Are you a player Today?
Let the Coaches Coach, the Officials Officiate, allow the Kids to play!

by: John N. Graham, Rogue Valley Football, Commissioner of Officials

What Everyone Should Know about Football Officiating in the Rogue Valley

Why do you go to sports activities in general and football in particular?
To see your child play? Maybe a friend or relative? Ever consider why
sports officials go to games? Football officials in the Rogue Valley go to
games to learn. Learn to game manage, provide encouragement, train those
willing to listen, support youth sports activities and show their commitment
to every game assigned to them.

Like a parent, the game official provides leadership and support to the
special people in our Rogue Valley, the youth.

A typical Rogue Valley Football official attends 6 weeks of pre-season
classroom training, several high school team scrimmages, a sport specific
clinic, completes a series of written examinations and pays a membership,
insurance and certification fee. That's the minimum to be in good standing
in our Association, Oregon Schools Activities Association and
National Federation of High Schools.

After that, our officials volunteered their time at the preseason
Jamboree, hosted at Crater High School. Some of the officials worked from
2 - 8 hours during the day. Why do they do this?

Our contributions to youth football provides all players, coaches and fans
with game management. By that, I mean assistance in maintaining a
controlled flow of events from the time the officials walk onto the field
until they leave the field. To do this, they check field conditions,
equipment, introduce themselves to coaches and team captains and do pre-game
activities to provide safe playing conditions. They work to start the game
on time and direct enforcement of rules, sometimes through penalty
enforcement all for the welfare of the players and integrity of the game.

Why be a football official? That question may be difficult to answer for
those who have not been on the field with us. However it is an easy answer
for those who work the games, it is FUN! There is crew commradre,
communication, commitment.

Come out to the games, talk with game officials, attend one of our training
sessions, walk the sideline with the Commissioner and most importantly
support everyone's role at all levels of play and officiating in the Rogue
Valley.

That is 'What Everyone Should Know about Football Officiating in the Rogue
Valley.'

Please direct your questions regarding rules of the game to me. I look
forward to providing The Official's Perspective on the Rules.

John N. Graham
Commissioner
Rogue Valley Sports Officials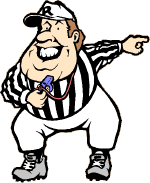 Comments
There are no comments for this announcement.