Three former players from BYFA now playing for the Bucks were recognized as the Northeast District All-Inland Awards were handed out on Saturday, November 15th. The Northeast District covers all of Northeastern Ohio. These players were awarded in Division III which is the division in which Buckeye plays football.
Named to the First Team as an Offensive Lineman is Senior, and former Jet, Cody Muhek. Given Honorable Mention were Juniors Kelton Keller, as a lineman, and Mike Kelly at Quarterback, both of whom are former Jaguars. Congratulations Guys!
The Brunswick Jets and the Jaguars hooked up Saturday Night at Steingass Field at Buckeye High School for the 2008 Championship game. The Jets won it, shutting out the Jaguars 21-0. It was the Jags only loss of the season as they finished with a 9-1 League record and a 12-1 overall record. The Jets kept their record unblemished at 10-0.
The Jags kept the ball most of the 1st half and finally surrendered a touchdown to the Jets with less than 2 minutes to go and the teams went to intermission with the Jags trailing 7-0. In the second half the Jags could not get the offense untracked and the Jets added two more scores to make it 21-0.
Despite that loss the Varsity Squad had a very successful season, becoming the first BYFA team to win 12 games in one season, and they, along with our Jets, made the first ever tournament appearances by participating in the Medina Kickoff Classic where they won all 3 of the games they played. We congratulate the Jets on their Championship, and we also congratulate the Jaguars on their 2008 Season.
| | | | | |
| --- | --- | --- | --- | --- |
| 10/18/2008 | 10/25/2008 | 11/1/2008 | 10/25/2008 | 10/18/2008 |
| Round 1 | Semi Finals | Varsity | Semi Finals | Round 1 |
| #1 Jets - 42 | | Championship | | #2 Jaguars - 19 |
| #8 Redskins - 0 | | | | #7 Impact - 0 |
| | #1 Jets - 14 | | #2 Jaguars - 19 | |
| | #4 Dynasty - 8 | | #3 Titans - 14 | |
| #4 Dynasty - 28 | | #1 Jets - 21 | | #3 Titans - 21 |
| #6 Colts - 14 | | #2 Jaguars - 0 | | #5 Pride - 6 |
The JV Division Championship game was played at Taliak Field in Strongsville on Saturday, November 1 and the Strongsville Blitz defeated the Brunswick Jets JV 18-0 to capture the JV Crown.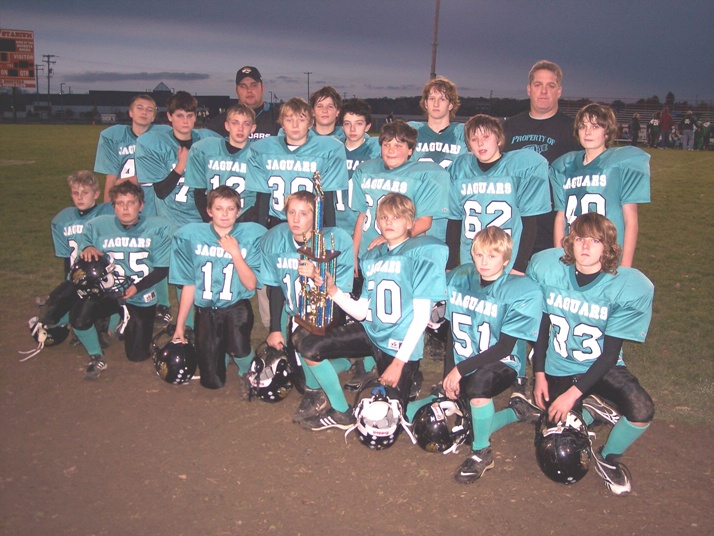 There are alot of former youth players now playing with the Buckeye Bucks at the high school level. We want to recognize those players who got started at this level and are continuing their play at the high school level. We are proud to have a part in getting them started in football and their coaches take pride in seeing them out there in games on Friday night and Saturday morning doing well.
The senior players include former Jets Darren Boulton WR/CB, Zach Yohman TE/DL and Cody Muhek OL/DL, former Jaguar Tucker Gregor TE/LB (injured), and Former Buccaneer Matt Shaw LB/TE.
The Juniors include former Jets Andy Young, Kyle Miller, Zach Calihan, Shawn Cordes and Cody Carrow. Former Jaguars Mike Kelly, Jake Boettner, Ryan McCormick, Joe Arena, Kelton Keller, and Tyler Erb.
Sophomore Players are former Jags Austin Friel (injured) and T.J. Hugney. Former Jets Kyle and Chad Gatt, Mark Persic and Chris Boutton. They are joined by Joe Ross and Zach Maxworty from the Buccaneers.
The Freshman class has Jags Billy Doerge, Brandon Klaehn, Shane Cook, Ernie Boulton and Luke Cuthrell. Jets alumni Tyler Carrow and Logan Luna. Rounding out the Freshmen are Buccaneers Michael Rain, Colton Theus, Jacob Thayer, Matt Duplaga and Mike Winans.
Former Jaguars Cheerleader Dana Roskey is a member of the 2008 Quakers Cheerleaders at Wilmington College. She is Freshmen this year and is cheering during both Football and Basketball season. Dana's goal is to be a veterinarian and she took her horse to school with her, hope the horse does well in school too, we guess that is where 'horse sense' comes in. She is pictured below in the back row, 3rd from the right.
Dana cheered with the Jags JV squad from 1998-2000, the Varsity in 2001 & 2002, and has helped pick music, and teach dance routines and cheers since the 2003 season. That's 11 seasons of contribution to our program along with cheering for Buckeye from 8th grade through her senior year.. Thanks for your dedication Dana and we wish you well with Cheerleading at the college level, and also in your education!
A couple of our former players are playing college football this season. Dustin Supan is a Defensive Back at Defiance College. He is a Junior this year and had a pretty good season last year for the Yellow Jackets with 34 tackles and 2 interceptions. They finished 5-5 last season and will open this year on September 6 against Muskingum College. Dustin played on the Jaguars Varsity squads of 1999 and 2000 and was one of the reasons they won back to back championships those years.
Down at West Liberty State College in West Virginia Josh Varney begins his Freshman year of College as a member of the Hilltoppers Football team. Josh played with the Jaguars JV in 1998 & 1999, he then moved to the Jets Varsity and played with them in 2000 & 2001. He was the 1st receipient of the 'Golden Jet' award in 2000, and coincidently he picked up the 'Golden Buck' Award last season with as a senior with the Bucks.
Justin is pictured above wearing #19 the same number he wore with the Jaguars, although he wore #20 with the Bucks. Josh is wearing #60 as he did with the Jaguars JV in 1998 (His younger brother Keegan is wearing it on the Jags Pee Wee squad). We wish both of these young men good luck during their upcoming season and also in the classroom.