The 2003 season marked the 5th consecutive year that the Jaguars made the playoffs. But as was the case in 2002 they bowed out in the first round. They posted a 5-3 record for season number 8. The 2004 season brings the promise that they will return several players and reload for another run at trying to attain their 3rd Championship.

The Coaching staff remained the same, some coaches just changed squads. Lee Mercer and Tom Ward, said goodbye to Chuck Magle who moved over to take over the JV Head Coaching job, and welcomed Andy Wuensch and Gary Karr up from the JV ranks to Varsity.

This season saw the first change in Head Coaches, as Dave Rea stepped down prior to the playoffs, and Lee Mercer assumed the role. Coach Rea will make a move to director as Buckeye Youth Football incorporates.

The Jaguar Cheer Squads again provided on field support and had their usual standard of excellence under Head Cheer Coach Wren Roskey, who completed her 6th season.
After finishing 2nd to the League Champion Chargers in 2002 the Jets were determined to make a return appearance in 2003. Under second year Head Coach Steve Watkins, and a staff that returned intact from the year before, they made a huge statement. They ran the table going 9-0 and won their 1st BYF Championship!

They returned many of their starters from 2002, and filled out the squad with experienced JV players that moved up. Every week they pounded their opponents into submission with a potent offense and a relentless defense that pursued to the ball.

The Jets Cheerleadering Squads did a great job of adding their support as they were there every step of the way rooting the squads on at all levels under 4th year Head Coach Kim Watkins.
The 2003 season was the 3rd campaign for the Buccaneers. They returned many players from the 2002 squad. The foundation for the future, continues to show as they had again had a competitive squad on the field. They are hoping the numbers rise in 2004 to allow the addition of a Buccaneer Varsity.

Head Coach Scot Asvestas returned, along with assistants Scott Gilbert and Austin Eggert, keeping the continuity in the coaching staff for these young players.

These players have learned football fundamentals and having fun. JV Cheer Coach Kelly Hunt returned for her 3rd season of coaching the Cheerleaders. Overall 2003 was another fine year for the Buccaneers.
Dustin Supan is presently playing football at
Defiance College
for the Yellow Jackets. He appeared in 9 games at Cornerback as a Sophomore this season, with 44 tackles, 2 INT, 1 fumble recovery and 7 passes broken up. Defiance finished the season 5-5, and 4-3 in their conference. Dustin played with the Jaguars JV in 1998 and the Varsity in 1999 and 2000.
As a running back at Buckeye he put up some big numbers in the record books, He put up over 1,300 yards rushing in his Senior season of 2005, he holds the all time yards per carry mark for a career with 8.1 yards per rush. He also is the only Buck to ever rush for over 300 yards in a game as he rolled over the Brookside Cardinals in 2005 with 306 yards on 21 carries. He co-holds the season TD mark at 22 in a season and is 5th on the All Time Scoring list. Dustin has done very well with his football career and academically, and we wish him more good luck on the rest of the season at Defiance.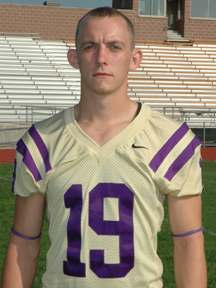 Darren is a Senior cornerback at for
Baldwin Wallace
this season. He has earned a Varsity letter as a Sophomore and Junior and is a Co-Captain with the Yellow Jackets this season. They finished 6-4 overall and 5-4 in the Ohio Athletic Conference. Darren was a member of the 1996 Jaguars Varsity. He is pictured below picking off a pass against Augustana College.
On, January 13, Baldwin Wallace held their 2007 Football Recognition Ceremony. Congratulations goes out to Darren Cereshko for receiving the Most Outstanding Defensive Back Award for 2007. The senior captain has finished his career as a Yellow Jacket. Finishing the season with a 6-4 overall record, Darren had 9 punt returns for 99 yards, 1 interception, 31 tackles, 18 assisted tackles and 5 pass break-ups. Darren was also named to the second team All-Ohio Athletic conference. Congratulations, Darren!
Darren holds all the reception and reception yardage records at Buckeye, where he played Wide Receiver and his twin brother Dan was the Quarterback. From his Cornerback position in high school he was third all time in Career INTs, two of which he returned for TDs in the same game against Warren JFK High School. He also had 3 INTs in a game three times during the 2002 Season at Buckeye. We are proud of Darren on his overall football career and academic pursuits and wish him continued sucess after his graduation from BW in the Spring.