We would like to wish Congratulations to our former players and Bucks' Seniors of the Class of 2010 who graduated yesterday at Baldwin Wallace College.
Andy Young (Jets), Mike Kelly (Jags), Ian Hunt (Buccaneers), Jake Boettner (Jags), Kyle Miller (Jets), Ryan McCormick (Jags), Shawn Cordes (Jets), John Sekerak (Buccaneers), Zac Callihan (Jets), Kelton Keller (Jaguars), Cody Carrow (Jets), Tyler Erb (Jaguars) and Sebastian Ricco (Jets).
Former Jaguar Kelton Keller has decided to attend Mount Union College in the fall after his graduation from Buckeye this month. Kelton played 5 years with the Jags from 1999 through 2003. He also started all 4 years of his high school career with the Bucks. He was a second team All Ohio selection this past season as a senior. He also played in the Ohio North-South Classic on April 22 at the Horseshoe in Columbus. His north squad was coached by Highland Head Coach Tom Lombardo.
Below is the article that Brad Bournival wrote in the Gazette.

ALLIANCE — It wasn't the 10 national championships that necessarily pulled at Kelton Keller. Nor was it the 18 undefeated seasons or 20 OhioAthleticCon­ference titles that caught the Buckeye senior's fancy.

When it came down to it, Keller wanted to be a farm boy, just like he's been all his life. That's why the 6-foot-4, 260-pounder chose Mount Union over Eastern Michigan to continue his academic and ath­letic career.

"(Eastern Michigan) is in a city and I'm a farm guy," Keller said. "Alliance is just like here. There's a grocery store down­town and the rest is just farm­land. It has a nice homey feeling. "I'm very family-oriented. Distance was a big factor. I want to be able to come home and help on the farm if they needed me."

So, with the help of coaches Billy Burke and Bob Jenne as well as the support of his family, Keller weeded out interest from schools like Akron, Bowling Green, Ashland and Toledo.

That the two-way lineman is going to a school that has six championships this decade and has established itself as a winner isn't a bad secondary prize.

The Purple Raiders have won national titles in 1993, 1996, 1997, 1998, 2000, 2001, 2002, 2005, 2006 and 2008, finishing second to Wisconsin-Whitewa­ter a year ago.

"It's got a very good winning tradition," Keller said. "I'm extremely excited. I like playing football, but it's not fun if you're always losing. MountUnion has a great campus and great aca­demics. Football is just icing on the cake."

The Purple Raiders are getting a pretty good football player as well. As an offensive tackle, he helped the Bucks average 223.5 yards on the ground and 287.8 total offense per game.

The four-year starter was namedsecond-team All-Ohio in 2009 and logged 54 tackles — eight for loss — with six sacks from his defensive end position. During his stint with Buckeye, the team went 27-14, reaching the playoffs for the first time since 2005 last year.

Keller, who will major in busi­ness with a minor in criminal justice, is going to a school that has gone 139-5 over the last decade.

"I'm just going to work my butt off to get that starting posi­tion," said Keller, who is being eyed as a defensive lineman by Mount Union. "I'd love to be able to play varsity right away. I've never played jayvee and I really don't want to. But I'll go wherever they need me."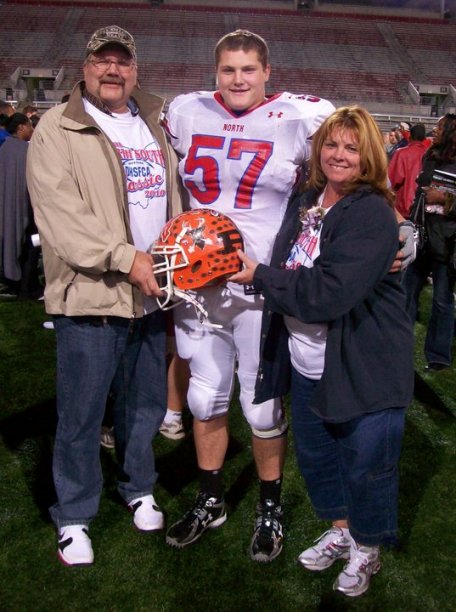 A group of players from Buckeye Youth Football coached by Bill Graham and Greg Thomas captured the Medina Indoor Flag Football U9 Division for the Winter Session. They went 5-2 on the seaon and won the Championship game over a Medina Squad by a score of 19-7. Nice job to all of you!
Pictured above L-R in the Back: Coach Bill Graham, Evan Tesar, Collin Graham, Ryan Orrick, Josh Meyer, Coach Greg Thomas.
Front Row L-R: Anthony Musarra, Connor Thomas, Ethan Vozar, Brandon Vozar.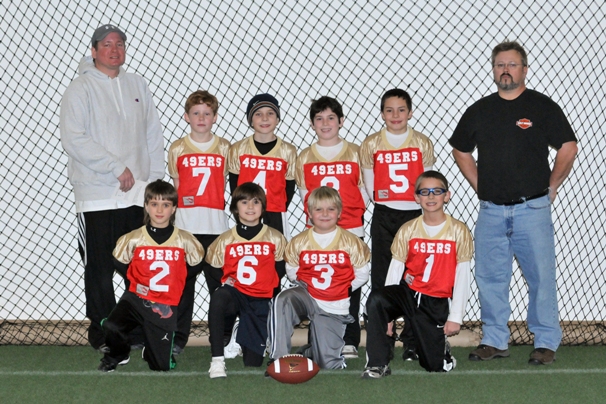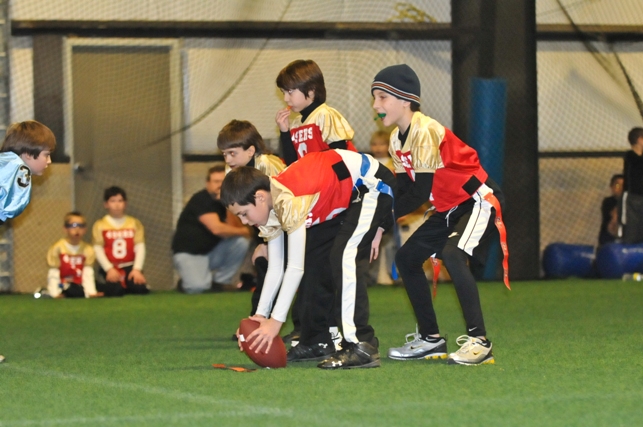 The 2009 season of Jaguar football saw the Varsity match their total for most wins from the year before as they went 12-0 and finished the season by winning the 2009 BDYF/BYFA Varsity Championship 20-0 over the Brunswick Redskins. They went 8-0 on the regular season, and made the playoffs for the 9th time and their 5th appearance in the Championship game. They also had appeared in tournament action for the 2nd time appearing again at the Medina Kick Off Classic, where they went 4-0 and defeated the Warrensville Heights Redskins 7-6 to become the Varsity Division Championship.
The Jags were coach by 2nd year Head Coach Paul Fowler and Assistants Mike Arena and Chris Calta former Buccaneers Head Coach who came over to the Jags when the Buccaneers were dissolved. Coach Arena's defense put up 7 shutouts, to raise the total to 17 in his two years coaching the Jags defense.
The JV Squad made it to the playoff for the 1st time in the 5 years there have been a JV Championship and continued the run into the Championship game with a 7-6 win over the Brunswick Jets to capture their first BDYF/BYFA JV Division Championship. They went 9-1 on the regular season and 11-2 overall as they played more games in a season than any JV team before them. They made their first appearance in Tournament play at the Medina Kick-Off Classic and finished with a 2-1 record. The Jags were coached by 4th year coach Eric Keller who was in his 2nd year as the Jags JV Head Coach. He was assisted by Coaches Paul Schnepp, Kevin Capela and Doug Manross.
The Jags Pee Wee Squad got their second season under way and had a good season under 1st year Head Coach Jon Stahl and Assistants Dennis Gulden and Mickey Ballantyne.
Eve Forster and Heidi Ingersol coached the Jags Varsity Cheerleaders, Stacey Stoll and Lori McCullouch coached the JV Jags Cheerleaders and Bille Conrad and Sheila Schnepp were the Pee Wee Cheer Coaches.
The Bucks Flag Squad had another good season in their second year. The team was made up of 5 and 6 year olds. They get an introduction to football and ease into playing tackle when they move to the Pee Wee Division at 7. As they move up the players and cheerleaders will follow their siblings to the teams they are on or be entered into the draft.
The Bucks were coached by Head Coach Ryan Sweeney and Assistant Coach Kirk Vozar. The Bucks Cheer Squad was coached by Sherry Graham and Dee Thomas.