It is that time of year for again for Cheer With The Bucks!! We hope to see you all again this year!! The date is October 5th with the clinics on October 2nd 3rd and 4th from 6:30-8. Attached is a registration form handout for you to print and send in. Cost will be $30 dollars and will include the clinics and a t-shirt.
Please support your High School Cheerleaders and Cheer on the Bucks at the October 4th football game!! All the girls have a blast so I hope you will all join us again this year. Please share the registration form if you know of someone that didn't participate last year that would like to join us!!
Please print off the form and send back in to your school office, we will take any child from preschool thru 6th grade. Send in your form by September 20th so I can get the order in for t-shirts. Any questions please let me know and we look forward to seeing you all again this year!!
GO BUCKS!!!
Sheila Schnepp
3302-461-3845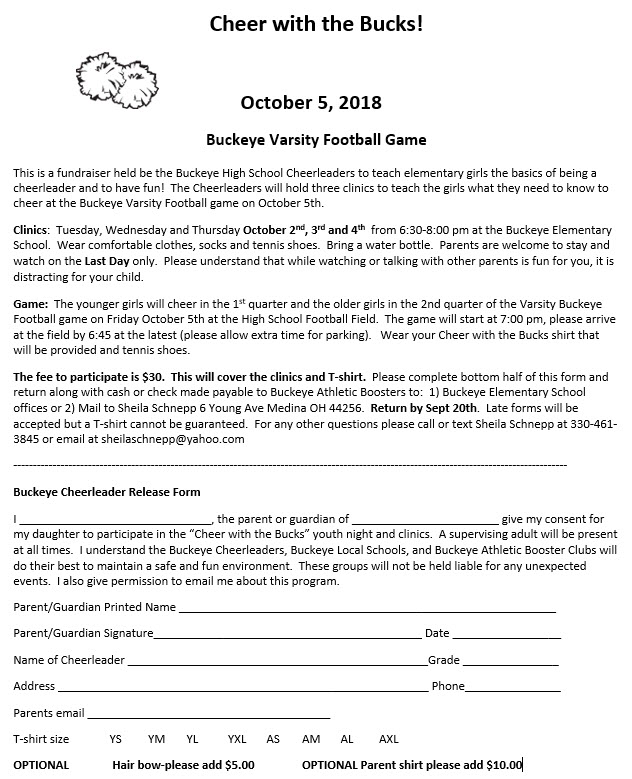 Thank you to the Buckeye community for making our annual fundraiser a success! We count on and appreciate the support of all of our league families!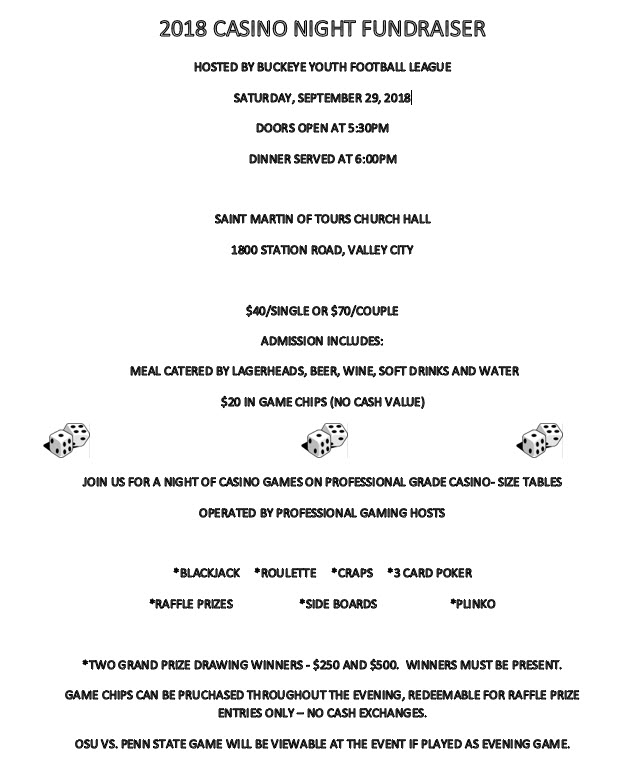 PRACTICES: Starting September 4th practice will be Tuesday, Wednesday & Thursday 6:00pm-7:30pm, through the end of the season.
GAMES: Complete Tackle schedules can now be found on www.LEYFL.com. Flag schedules are posted on the Lorain/Medina Flag Football League website.
YOUTH NIGHT: Mark your calendars for Friday night 10/5. This will be our youth night at the high school game where the teams have an opportunity to be on the field and cheer on the Varsity as they take the field. Please have your player/cheerleader meet their coach on the track, next to the scoreboard on the North end of the field at 6:30. Entrance is free, if you wear your coach's shirt-coach, game jersey-football player, cheerleaders wear Buckeye Spirit wear shirt or Cheer with the bucks t-shirt & Cheer Jacket). (siblings and parents must pay to get in)
CHEER WITH THE BUCKS: This will also happen this year on 10/5. Full details with registration sheet is below.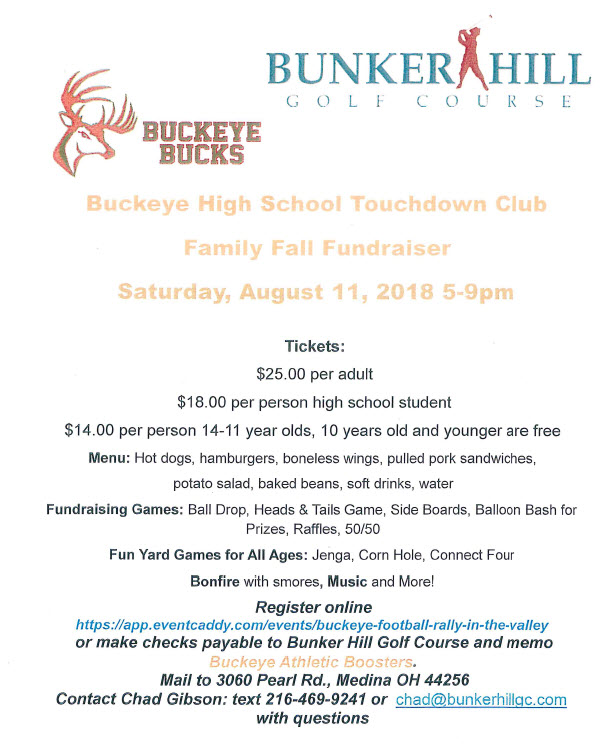 There will be VOLUNTARY practices this coming Monday 7/23/18, Wednesday 7/25/18 and Friday 7/27/18 from 6:30-8:00 at the Buckeye youth practice fields for 3rd, 4th, 5th, and 6th graders.
If you're son is interested just show up with cleats and water (no equipment allowed) and we'll work on stretching, running, cutting, passing, catching, and other fundamental as we get ready for the season. This is a good opportunity to meet the coaches, ask any questions you may have, knock off some offseason rust and have some fun with the boys. You can also drop off their physical evaluation forms to the coaches as well during this time as these must be turned in at or before the first official practice on Monday 7/30.