Announcement
<center>Former Jag Coaching College Football In 2009</center>
Posted by
Dave Rea
on Oct 06 2009 at 05:00PM PDT in 2018 Season
More editing options
Darren Cereshko begins new football season at Notre Dame College. The Buckeye and Baldwin Wallace is a Graduate Assistant getting his Masters of Education with a Technology Endorsement. This season he is helping coach the defensive line with Keystone High School graduate and Baldwin-Wallace All-American Gus Patouhas.
Darren related "I love coaching and I love football, I am excited to be where I am. I am anxious to see how the team shapes up. It is an new experience coaching at a school that hasn't had a football program before, but I will take a lot out of it."
Info on the program:
Notre Dame College is pleased to announce that the development of a football program is underway, with plans to begin intercollegiate competition in 2010. Falcon football becomes the 19th athletic program at Notre Dame, which first admitted men to the College in 2001.

"We're thrilled at the prospect of initiating a football program at Notre Dame," said director of athletics Susan Hlavacek. "We have challenges ahead, but this is the right time for the College to take this step. NDC football will bring a certain unity to our campus, and in turn keep us connected to the Greater Cleveland area."

According to Hlavacek, Notre Dame will begin recruiting now, with a 2009 leadership class forming the backbone of the startup program. The College will look to hire a head coach over the winter of 2008-09. Based on further study and the success of initial recruitment, the Falcons could play a club schedule in 2009. Play in an intercollegiate schedule would begin in the fall of 2010.

Hlavacek indicated the announcement was made after months of due diligence in investigating the matter with various elements of the College.

Notre Dame President Dr. Andrew P. Roth indicated that football would be leveraged as part of the long-term success of the College: "The time is right for football at Notre Dame College. It helps foster a full college experience and further develops the campus atmosphere we've striving to create. Falcon football will also be a vehicle to build even closer relationships with our alumni and with the Greater Cleveland community.

With their development of a team, Notre Dame becomes the first scholarship football team in the metropolitan Cleveland area. Further details will be announced by the Notre Dame Department of Athletics at a later date. For more information, contact sports information director Skip Snow at 216.373.5319 or ssnow@ndc.ed.
Notre Dame College is a co-educational liberal arts institution in South Euclid, Ohio. The Notre Dame Department of Athletics sponsors the Falcons' participation in 18 men's and women's intercollegiate sports. The College is affiliated with the National Association of Intercollegiate Athletics (NAIA) and the American Mideast Conference (AMC). In 2007-08, Notre Dame athletic programs ranked in the nation's Top-50, based on the NAIA Director's Cup all-sports ranking as published by the National Association of Collegiate Directors of Athletics (NACDA). Their website is www.notredamefalcons.com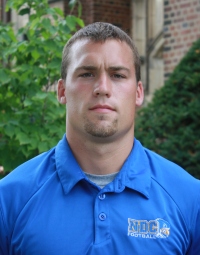 Comments
There are no comments for this announcement.