Announcement
2007 Alumni Soccer Team
More editing options
2007 Alumni Soccer Team.
The Alumni pulled out everything they had including ice packs, canes and cruches to win the game. (just kidding). Coaches stacked up all of the younger stronger talented players for the Alumni in the 2nd half which proved to be a strong combination against the Red Raiders. It was kind of good to see a group of players come back that have been gone for 4-10 years and still play as good as they did. The Alumni Team won the match with a score of 5-3. The first Goal was scored by Heath Elliott 30 seconds into the game. It's good to see that most of the players have kept in shape and still play the game.
Gongratulations Alumni for a hard fought WIN.
Front row: Chip Spinning, Marty Spinning, Marc Eades, Larry McCoy, Bob McCombs, Jeff McCombs, Heath Elliott, Mike Chamberlain, Kurt Shellhause, Josh Carter, Charlie Henderson, Richie Boyd, Ryan Hughes.
Second row: Jessica Shellhause, Les Takacs, Steve Baker, Mark McCoy, Daniel Shellhause, Ben Goodyear, Josh Roach, Lamont McCoy, Rick Mollett, Drew Porter, Jared McKenzie, Glenn Thompson, Dominic Ventresca, Trey Wright.
The Alumni Team was coached by Al Shellhause and Jeff Stiffler.
Thanks to the London High School team coached by Andy Byrum for allowing their scrimmage to be played against the London Alumni.
Good Luck this season Red Raiders.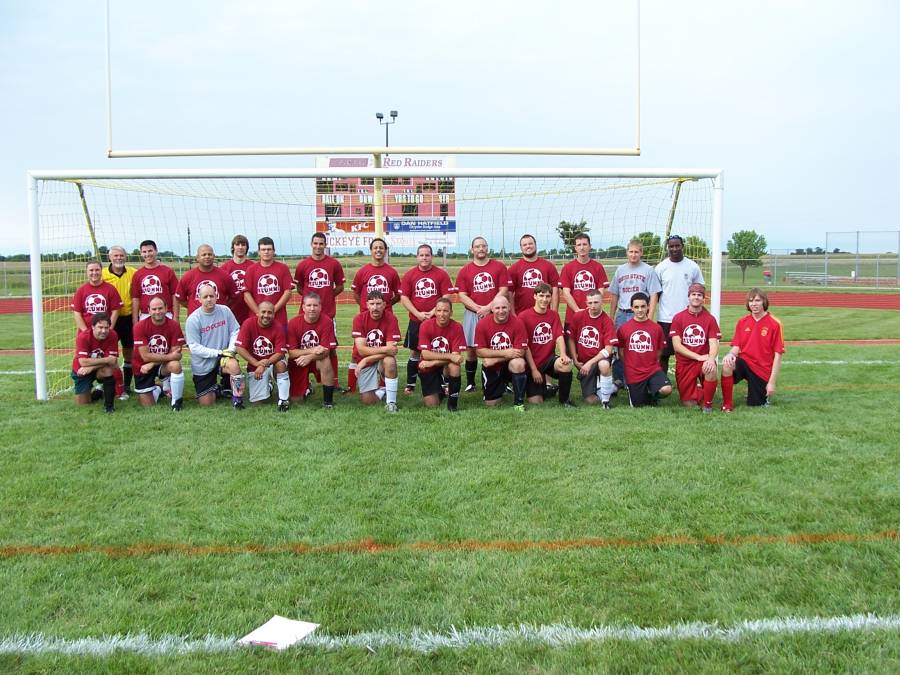 Comments
There are no comments for this announcement.