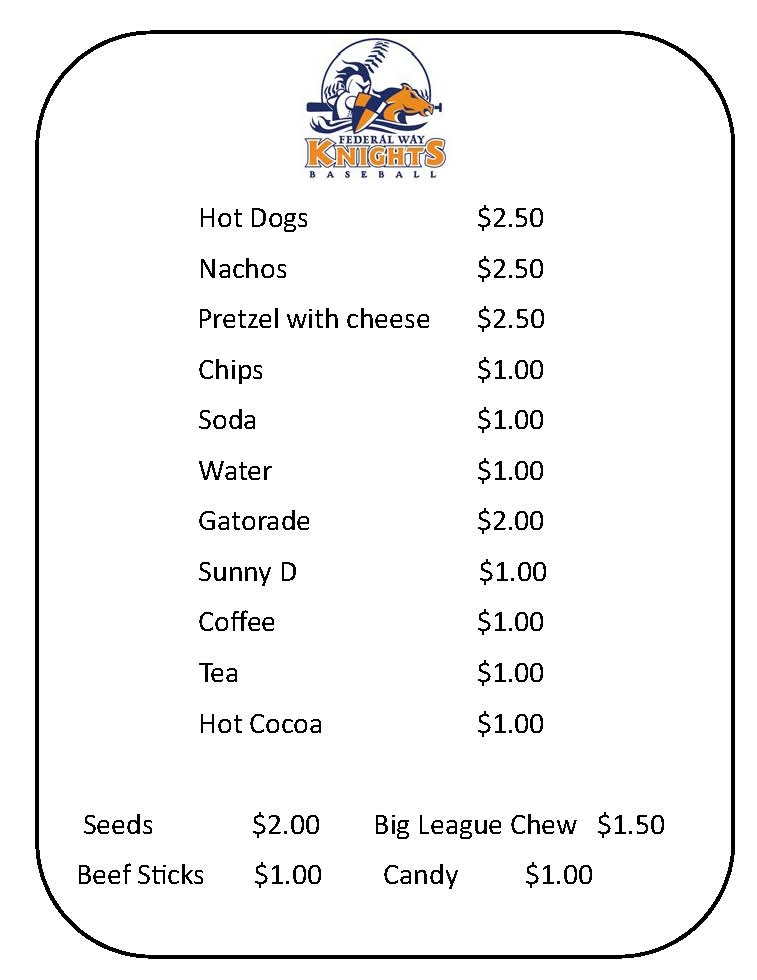 The concessions menu below will be available at
FWNLL Complex, Saghalie, Sacajewea and Steel Lake.
All other sites will have the following available for purchase:
$2 Gatorade
$1 Water
$1 Beef Sticks
$2 Seeds
$1 Candy
"KNIGHT OF COMPETITION" will be held on Saturday, July 23, 2011 for 8U, 9U, and 10U players. The events will take place at the Complex and Sacajawea Upper Fields. Medals will be awarded to top competitors at both sites.
Knight of Competition Aproximate Start Times

THE COMPLEX:
Knight of Competition on Field #1 and (#2?) from 3:15 to 4:15

SACAJAWEA UPPER FIELDS:
Knight of Competition on LL Field #2 - Roadrunner from 3:15 to 4:00
LL Field #1 - Golden Arm from 3:15 to 4:15


Coaches should print and complete the sign-up form below as soon as possible and turn it in to the announcers table at Field #1 at the FWNLL complex or to the announcers booth at Sacajawea Upper Field #1.