---
OTTAWA LEGION BASEBALL
....nothing else like it!
==============
Post 63 Adds Pitching Coach Nick Watkins to Staff !
================
2019 Alumni Games Set
Monday Night June 17 - 7:00 PM
Friday Night June 28 - 7:00 PM
===========================================
Post 63 Centennial Celebration
Episode # 1 Beginnings....https://youtu.be/m16Q1_sefDI
Episode #2....The Early Years.... https://youtu.be/bWsD7vHgWkk
Episode #3....Beutler Field and The Beginning of Ottawa Legion Baseball...https://youtu.be/SfIxGyu7-Qw
==============================
To view the developing 2019 schedule, click on Link at left.
=====================================
Memorial Plaques (8"x8") are still available to be placed on the Gateway Entrance Arch. (See picture below) A tax deductable donation of $1000.00 to the Memorial Park Capital Campaign entitles the donor to a memorial plaque. For more information contact Dave Kersh at davekersh56@gmail.com.
=========================================================
POST 63 NAMES BRAYDEN SAUTTER AS NEW HEAD COACH....Doug Sanders, and Doug Sanders Jr. to assist!
In 2016 a scrappy middle infielder named Brayden Sautter showed up at the Ottawa Legion Tryout Camp. A solid fielder, and reliable contact hitter, Sautter easily made the roster. Less than two weeks into the season he was the starting second baseman, and went on to lead the team with an impressive .418 BA. Sautter quickly emerged as a team leader due to his winning attitude and knowledge of the game. Now, less than 3 years later, Brayden Sautter has been named to lead The Fighting 63rd. If his emergence as a head coach mirrors his playing days, good times could be ahead for The Fighting 63rd.
Sautter becomes the 30th head coach in Ottawa Legion Baseball history, which dates back to 1930. He currently is a junior at Bluffton University, and is a 2016 graduate of Ada High School. While in high school he was a four year varsity baseball starter, earning 1st Team All NWC honors in his junior and senior years. He is the JV baseball coach at Columbus Grove High School and a licensed basketball official.
Sautter will be assisted by the seasoned Doug Sanders, who was an effective assistant coach for the Ottawa Legion in 2015 and 2016. Sanders brings an abundance of experience, and his soft spoken approach enhances his ability to communicate with the players. He is a student of hitting, both the mechanics and mental aspects. He graduated from Bath High School and Ohio Wesleyan University where he played four years of football and baseball.
Also assisting will be Doug Sanders, Jr , who also graduated from Bath High School, and Ohio Wesleyan University, where he played football and baseball for four years. He also was an assistant coach in 2015 and 2015.
OTTAWA LEGION COACHES 1930 - 2019
(some coached multiple times)
Sheriff Red Felkey
Rudy Roof
Larry Dunn
Fred Ruhl
Adolph Maag
Bob Recker
Bob Vonder Embse
Joe Nienberg
Shorty Kreinbrink
Bob Weis
Tom Weber Sr.
Dave Laudick
Tom Kurry
Gene Stechschulte Sr
Don Weis
Ron Kruse
Dan Vennekotter
Dave Yoder
Willie Selhorst
Tom Weber Jr
Jerry Schomaeker
Tony Ambroza
Ted Miller
Randy Apple
Gene Stechschulte Jr
Dave Kersh
Todd Schimmoeller
Doug Waddle
Jordan Rode
Brayden Sautter
=================================================
Baseball Surges to #1 Youth Sport!
Finally, Baseball is getting some good news about participation in the sport. Stunning news, really.
Baseball - Softball has now surged to be the # 1 youth participation sport in the United States. This after a 3 year trend of growth, according to the annual report by the Sports & Fitness Industry Association. Participation in Baseball has shown an annual rise of 6.5% over 5 years, 10.7% over 3 years, 18.1 % from 2015 - 2016. The growth rate seems to be gaining momentum. The increase in participation almost certainly stems from MLB's "Play Ball" initiatve which was launced by the sport in 2015. This story was reported by Fox Sports and other news outlets.
========================================
"If a team is to reach its potential, each player must be willing to subordinate his personal goals to the good of the team."
~ Bud Wilkinson
====================================================================================================

THE AMERICAN LEGION...For God and Country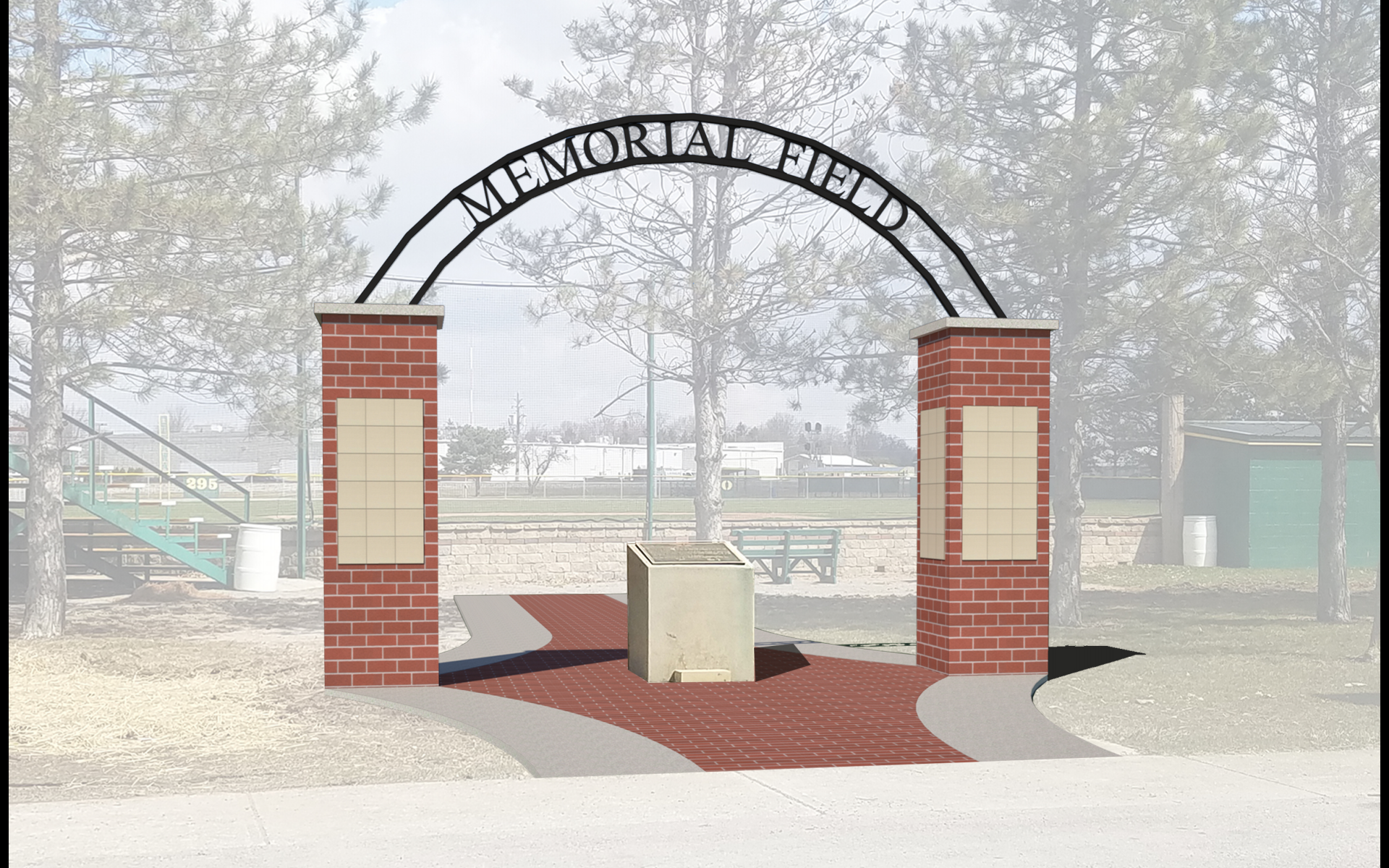 MEMORIAL PARK HISTORY
The first Ottawa Memorial Park would be located east of Pratt Street and north of E. Fourth Street. Plans for the new park were unveiled in 1950 at a joint meeting of the Ottawa Kiwanis and Chamber of Commerce. Co-Chairmen of the Park committee were R.E. Laudick and WC Toner. Norris Simpson was named the supervisor in charge of construction. The park would eventually include tennis courts, shelter houses, restrooms, playground equipment, and a lighted baseball field. Construction of the park was truly a community effort. Volunteers, young and old, cleared grounds of branches and trees. The local Ohio National Guard, led by Gale Bennett, joined forces with the Boy Scouts, led by Scoutmaster Ralph Reed. Weatherseal Inc. pledged the material and labor to build a covered grandstand for the baseball field.
On June 21, 1965 Ottawa Mayor Ray Winkler informed the Village Council that Sylvania Electric had made a request to purchase the park site. Sylvania Electric proposed to build an 158,400 ft facility to manufacture color television tubes. Following some legal procedures, the property was sold for $16,000. A special farewell baseball game between the OG ACME team and Ottawa Legion was held at the park on August 1, 1965. Ottawa Legion Baseball GM Shorty Kreinbrink and OG Athletic Boosters president Bill Kruse organized the game and special closing ceremonies. Today, there is no trace of the old park, or ballfield on Pratt street.
NEW LOCATION
Memorial Park was moved to its current location on Locust Street in 1966. Members of the Athletic Boosters, volunteers, and village employees began to dismantle and move as much of the park equipment as possible. This would include playground equipment, shelter houses, and the baseball field lights and poles.
Since 1966 thousands of baseball games have been played at Memorial Field in the new Memorial Park. Lifelong memories and friendships have been made here. These games include Pony League, ACME, high school, and Legion Baseball. On June 22, 2001 The Ghost Players from the 1989 movie classic "Field of Dreams" came to Memorial Field. A crowd of over 1500 people jammed the ballpark to watch the Ghost's one hour comedy show, "The Greatest Show on Dirt." After the comedy show the Ghost Players took on a group of Ottawa Legion Alumni players. The Ghost Players won a hard fought game 8-7. In 2002 the Ghost Players returned to Memorial Field for an encore performance, this time drawing a crowd of over 2000 fans. The barnstorming Ghost Players performed all around the world and United States, but the visits to Ottawa were were their only appearances in Ohio.
Windstorm of 2012
On June 29, 2012 a derecho windstorm hit Memorial Park damaging shelter houses and several trees. The fierce storm also damaged the lights. Upon inspection it was determined that the 56 year old poles were rotted, and unsafe.
A lighting committee was formed in June of 2013 which eventually became the Memorial Park Capital Campaign Committee. The committee reached its goal in the Fall of 2017. Once again the community had rallied and come together for a common goal. The new lights were installed in the Spring of 2018.
Dave Kersh
American Legion Post 63 Historian
Night Baseball In Ottawa....Important Dates
MAY 29, 1929 – First Night Game in Putnam County took place at Beutler Field, on Ottawa's west end. The barnstorming American Athletic Girls baseball team set up their $20,000 light plan of 50,000 candle power. This would illuminate Beutler Field as the Athletic Girls defeated the local Liberty Sluggers 6-2
MAY 24, 1935 – First Night Game in Major League Baseball played at Crosley Field in Cincinnati.
SUMMER 1950 – Plans for a new park in Ottawa were announced at a joint meeting of the Kiwanis Club and Chamber of Commerce. Eventually the new park would become the home Ottawa Legion Baseball, although the team would continue to play at Beutler Field until 1955, when the team played in Kalida.
The new park, named "Memorial Park" would be located on Pratt Street. Co-Chairmen of the Park Committee R.E. Laudick and W.C. Toner enlisted several local citizens to lead various portions of the construction. Norris Simpson was named the supervisor in charge of construction.
The park would include tennis courts, shelter houses, restrooms, playground equipment, and a baseball field with lighting and a covered grandstand. Construction of the park was truly a community effort. Volunteers, young and old, cleared grounds of branches and debris. The local Ohio National Guard joined forces with the Boy Scouts, and planted 200 seedlings on the west side of the park. Weatherseal pledged the material and labor to build the new covered grandstand.
SUMMER 1955 – In summer of 1955, there were still no lights on the new ballfield. A shortfall of funds had caused the lighting system to be put on hold. That's when local citizen Donald Doepker formed a new group, the Ottawa Community Boosters Club, with the stated goal of raising funds to light the new ballfield. Officers of the new club included Pete Hamilton, Alva Lanwehr, Hubert Beckman, Forest Hopkins, and Paul Schomaeker. Other members included Joe Ruhe, Frank Kahle, Bernard Ruhe, Reese Maidlow, Donald Weis, Alvin Felkey, Vyland Newland, Vic Goedde, Ray Conine, Bob Imm, and Louis Ball. The community rallied behind the group, and together they got the job done.
JUNE 12, 1956 – First Night Game at the new Memorial Park. Ottawa Legion defeats Delphos Legion 3-1.
SUMMER 1965 – Village of Ottawa sells the site of Memorial Park to Sylvania Electric
AUGUST 1, 1965 – Last game played at the ballpark on Pratt St before the move. A special farewell game was organized by Bill Kruse, President of the OG Boosters and Shorty Kreinbrink. The Ottawa Legion played the OG ACME team on a Sunday night. The evening included food, music, and a special farewell to outgoing OG School Superintendent Lester Smith.
SUMMER 1966 – Memorial Park and ball field are moved to its' current location.
============================
Sources: "We Had a Lot of Fun" -- History of Ottawa Legion Baseball (2005)
Kerner-Slusser Post 63 75 Year Anniversary Book (1994)
Putnam County Sentinel Archives