Announcement
Official Site Of the Brian Derby Offensive Line Football!</a>
More editing options
WELCOME TO BRIAN DERBY's O'LINE Web Site!

There are lots of Big Men in the Game of Football. At all levels from Youth to The NFL, it is becoming increasingly important to have great quickness and technique.
It is NOT ENOUGH anymore to just be big. Everyone is BIG, Quick, Fast, and Strong. The Deciding factor is TECHNIQUE!
. Coach Brian Derby realized this Years ago both as a Player and as a Coach. Brian's Philosophy and ability as a Coach are helping all who attended his camps and clinics in Hawaii, Utah, Oregon, Alaska, Virginia and Japan.
ATTENTION
: Derby Camp-HAWAII 2016 is now CLOSED! Once again the camp is INVITE only. Email or call for info and details for future camps.
The Brian Derby

OAHU CAMP - 2016 is now CLOSED
. HAWAII Camp is INVITE/REFERAL ONLY. Invitees, Check the website for info of date, time and location for the 2012 schedule. Once again, I would like to Thank Kaimuki High School, Farrington VicePrincipal Ron Oyama, Kaimuki Principal Wade Araki, Kaimuki Athletic Director Fred Lee for their hospitality and assistance in helping us service the youth of Hawaii. This is Derby Camp's 20th year of FREE football camps, helping the youth of Hawaii. Click on the Hawaii Camp link for more Info. Pictures of the 2016 Food drive for the Ronald McDonald House will be posted soon after our food drive on Feb. 14.
---
Derby Camp 2016-Hawaii collects food for the RONALD MCDONALD HOUSE!
The RONALD MCDONALD HOUSE assist families that travel far from home to get treatment for their seriously ill or injured children. The treatment may last a day, a month, or even longer. It's a long time to be away from home, or to divide a family. Ronald McDonald Houses around the world offer families a way to stay together, in proximity to the treatment hospital, and be comfortable and cared for during their stay. Derby Camp-2012 Food Drive Photos are coming.
Derby Camp 2016 participants all gave unselfishly to the Ronald Mcdonald House in these hard economic times. Participants brought Non-Perishable food to practice to be donated to the RMH. We collected tons of paper products (toilet paper, paper towels, etc.) , canned goods and lots of Rice. I would like to thank everyone for the generosity in giving and helping an organization that does so much to help our families in need. More pics of the 2016 campaign are coming. Thank you all very much for paying it forward! God Bless you all.....Coach Derby
Pictures From Derby Camp Ronald McDonald House Food Drive
---
Congratulations Derby Campers that have accepted scholarships and going on to College in 2016. These Players attended Derby Camp Hawaii. They worked hard throughout the off season and in school and worked their butts of at camp! Guys, we are really proud of you and wish you all the best in your college career and life!
Hawaii Camp
Toleafoa "Sean" Auwae-Vanderbilt
Ramsay Aviu- University of Minnesota-Crookston
Kyle Chinen-Briar Cliff University
Michael Eletise-University of Arizona
Mataio Fatuesi-Azusa Pacific University
Kaleookalani Gaspar-Undecided
Joshua Hauanio-University of Hawaii
Nate Herbig-Stanford University
Aaron Miller-Eastern Illinois
Netane Muti-University of Hawaii
Tamatoa Neher-Snow College/University of Utah
John Wendall Nisa-Pima College
Andrew Tovi-San Diego State University
Kalae Wong-Lewis and Clark College
Devin Ishimine-Pacific University
Cade Pedro-Delaware St. University
---

For the Love of the Game... we are here to Help you achieve all you can!!
The most important thing to us is that you learn to love the game and to enjoy your experience as a player and as an athlete. In the end of your time as a Player the memories and experiences you have on the field will carry you onward in life. They can carry you through good times and bad. We are here to help you experience that and hope you achieve all of your goals in life.
This is the Official Website for the Brian Derby Offensive Line Camp and Clinics.
Come to our Clinics and Camps and Learn to Match Size and Strength with Speed, Agility, Technique and Quickness. If you want to get better and are a Player from Youth to Pro come Learn from the Best at the Top Offensive Linemen Camp!

Coaches, Parents and Fans of the Game are all welcome to get involved. If you are a past player or coach and want to discuss a clinic or camp for your team or league' contact us and we will respond.
---
2009 Results
Over 350 Athletes came and improved at the Derby Camps and Clinics in 2008. Take the tools you have learned and go out and have a great year guys! Once again we are blessed to have been able to coach so many hard working kids in Hawaii and Oregon and are proud to have such a great group of athletes out there representing us and their teams in Youth, High School, The Collegiate Ranks, and the NFL !! Take no Downs off, play with your Heart, Use your Technique, and Stay Low. The Warrior Spirit is alive in each and every one of you. Do not allow yourself to be beaten!!
Here are some Pics from 2009 of The Oregon Camp!

Pictures from Oregon 2008 Camp
"Brian's camps are the best I've seen in my 15 years of coaching. The coaches do a very good job of coaching fundamentals, and an even better job of coaching character traits into young men. I would highly recommend it to any linemen"
Coach Jay Minyard; Head Coach at McKay High School
You will find alot of information in this site. Use the Menu Buttons on the Left to check out what is happening here and at our camps and clinics!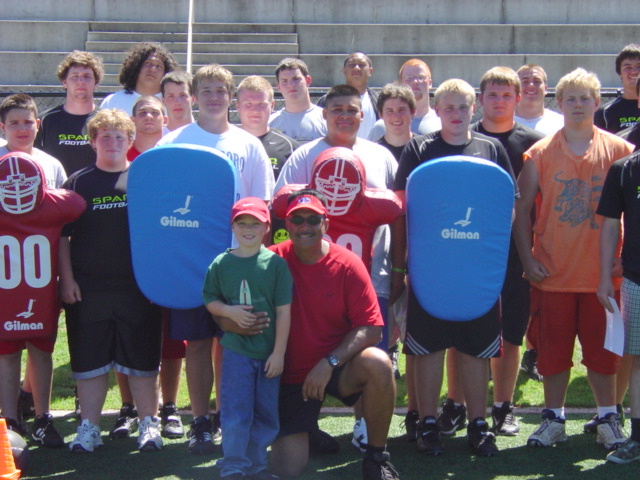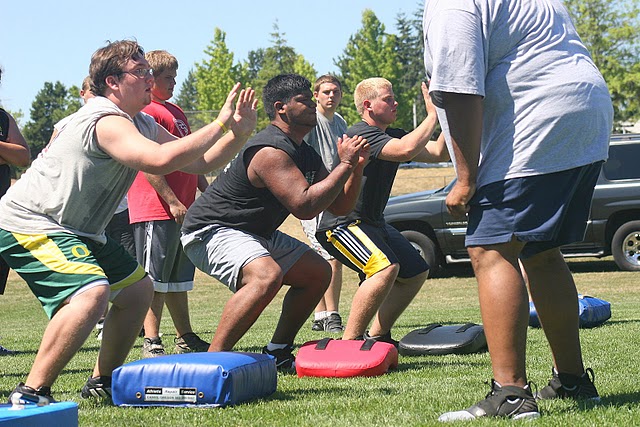 Comments
There are no comments for this announcement.