The Eagles travelled to London, Ontario for the Labour Day weekend. The weekend began on Friday night with our regular SRSL league game against London City. The first victory for the weekend. We opened our Henderson tournament play at 8 am on Saturday morning. Wins against London United Thunder (1-0), Windsor Valiants (3-0), Waterloo Wildats (10-1), and London United Primavera (1-0) led us to semi-final play against the Woodbridge Strikers. The Eagles outlasted the Strikers through penalty kicks and faced London Primavera once again in the Championship match with a closing 3-0 victory. A well run tournament blessed with great weather.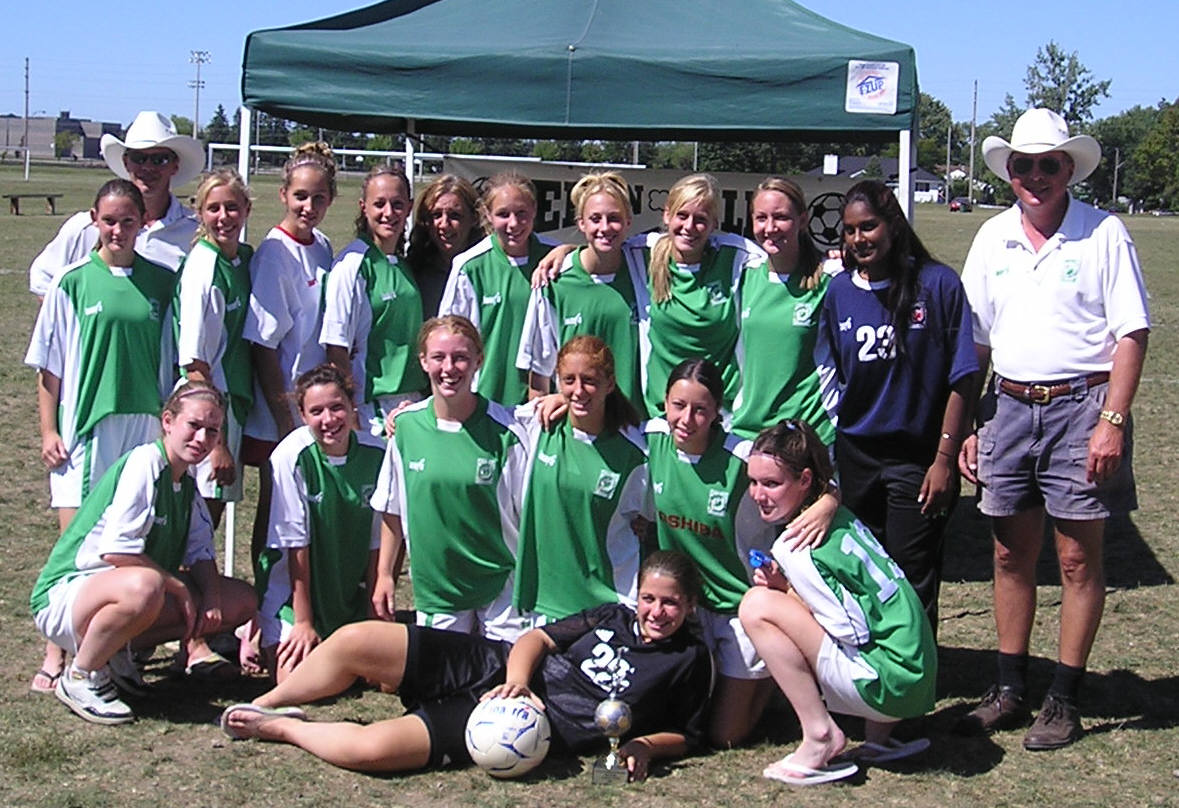 For the sake of comparison I have laid out the stats next to those from our first meeting.
Quite a substantial difference I am sure all will agree.
Won 7-0
( Tie 1-1 )
The simple stats......
Shots
Eagles -
27
(17 ) Grimsby -
9
( 6 )
Corner Kicks
Eagles -
7 and converted 3
( 12 (ouch) ) Grimsby - 1 ( 0 )
Time in Grimsby's end of the field
1st half -
29/45 min - 64%
( 32/45 min - 70% )
2nd half -
36/42 min - 86%
( 32/45 min - 70% )
Total connected passes
1st half -
90 - WOW!!
(16 (ouch) )
2nd half -
110 - WOW!!
( 20 (ouch) )
A quality, dominating game still hampered with poor striking finish in the early part of the game.
Still too many players getting ahead of the ball in the goal area.
Still too many missed opportunities to feed the player with the best shot position.
Our best soccer performance yet - moving the ball with 200 connected passes in the game.
Three of our seven corners were converted - a season record.
Option corner plays were exercised and kept Grimsby off balance.
74% of our 1 v 1's were won...a big improvement over our typical 50% approx.
The Grimsby coach was ejected because the ref overheard him instruct a player to kick our player in the head.
A tough ref, but he called a fair game and kept control of the event.
Well done Eagles...you can score and you have sent a clear message to everyone else that you will face in the future.
A reminder to everyone, when the score starts running up and you feel you have control of the game you must all stay absolutely focussed with full effort.
You run the risk of getting injured when you back off against an opponent who is coming harder than ever. It is always safer to be the hammer rather than the nail. BT
*******************************************
First game commentary........ Most of the individual stats are posted on the web site.
A sense of deja vu (last season) with our season opening with a tie that never should have been.
Overall we played a dominant, less than glamorous game, but failed to get the ball in the net when needed.
We watched Grimsby's game change drastically downhill when we finally put one behind them.
Next time we must score early to improve the dominance and keep them on their heels. Brittany Kadwell ( 8) scored on us from the left wing. (power shot) - for the record.
Some observations.... A slow start out of the gate......everyone has to be there from the opening whistle to the end.
Some obvious energy lacking in some players - fitness? - game prep?
We had 12 corner kicks - says something good about our offensive pressure.
With the exception of Tonya coming up as the target player, I did not see either of our corner kick set ups put in play.
Corners are high quality opportunities to score - player placement and strategic pressure on the defenders is essential - we missed 12 opportunities as we stood around waiting for something to happen.
17 shots - 1 goal....we need more hunger in front of the net......we were far too polite in many cases.
The biggest weakness in the game was our ball control.
36 connected passes (and that included balls to the corner) is absolutely unacceptable.
This shows that we were scrapping out 1 v 1's from Grimsby rather than controlling the play of the game, supporting the ball and managing our energy better.
First touches and errant passes must improve.
First to the ball - sometimes.....needs to get to 90%.
Opening day jitters are over - you survived for one point, but two precious points got away.
I am grateful to the walking wounded, especially Tonya, who suffered through the game with foot trouble to produce the result. No training on Thursday.
Next "training" is our COVI tournament on the weekend. Please be at the field by 8 am on Saturday morning for our 9 am start.
I'll be running up to the fields tomorrow to check them out and will advise the details.
As always, comments and observations about our game activities are welcome from parents and players (and our Club Head Coach) who was out to watch. BT