The JV put another win in the books Friday night, scoring 18, and limiting the HCHS Rebels to only 5. At historic Webb Field, a strong and multi-talented Whitewater team beat the Tigers 12-1.
On Saturday, both squads will face an always tough Central Carrolton. JV travels with first pitch at 11 a.m. and the Varsity hosts at 5:15 p.m..
Photos from the Friday Night JV Win
The DCHS Tiger JV squad overcame a six-run deficit and stunned the Landmark Christian Academy War Eagles by scoring 11 runs in the final two innings to capture their first victory on the 2010 season.
The Tigers were down by four runs in the top of the sixth, when freshman Connor Moroney blasted a three-run inside the park home run to pull the Tigers even at 8-8. The defense, behind the pitching of Justin Thompson, held the War Eagles at bay in the top of the inning. In the seventh, the Tigers shut the door and posted five more runs to win 13-8.
The Tigers entered the contest a little short handed, minus one coach and two pitchers. Rashad Brown began the game with a single, and then took second on a steal. Moroney brought Brown in with a sacrifice bunt. On defense, Justin Thompson took the hill, and kept the Landmark bats in check to end the inning tied 1-1.
Thompson got the only Tiger hit in the second as he ripped a single through the gap to start the inning. Smart defense and good pitching left DC with two stranded and no runs to end the inning. Several miscues and a blown call in the top of inning allowed Landmark to pull ahead 6-1 after batting around.
Moroney started the third with an easy stand-up triple and then scored on a passed ball. Right fielder Bill Sheppard cranked out a double but was left stranded by great defensive play by the War Eagles.
Later in the top of the fifth, DC loaded the bases down 8-2 with no outs. Walks issued by the Landmark bullpen brought the Tigers closer, but still four runs short at 8-4.
Brown came to the plate in the sixth with Nigel Hale and Jordan Losey on base and no outs. He got his second hit of the day to left center to score two more DC runs. It was then that Moroney stepped to the plate and hit a bomber inside the park home run to right center to even the score.
"I was rounding first thinking I know he missed it and I'm now thinking triple," said Moroney. "When I rounded second and saw him (coach) waving me through (third), I knew I had to hurry."
In the final inning, DC kept up the pressure to score five more runs beginning with a walk-off double by Kyle Smith. Miriah Campbell reached first, bringing up Jordan Losey who safely bunted the runners around to load the bases with one away. Moroney then drew a walk to put the Tigers up 9-8. Freshman third-baseman Zach Odom drove in another run, followed by Sheppard to score two more. Thompson and Nigel pushed two more runners across the dish for finish the inning 13-8. The defense protected and shutdown the War Eagles to get the victory.
"We battled back and got a huge pinch hit in the seventh. Everyone is contributing – whether running, defensive subs, hitting – they never gave up," said Tiger JV Skipper Eric McAfee. "We were down six runs and I told them that if they can do it we can do it. Now let's go have our big inning and put this game away."

Photo Gallery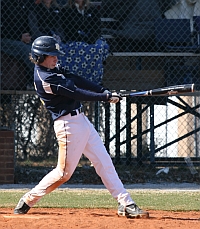 On behalf of the Douglas County Tiger student athletes and coaching staff, the Douglas County Dugout Club would like to thank our friends, families and community sponsors. Your generous donations to our fundraising campaign will definitely be put to good use. We will be using the money to purchase equipment and complete our facilities at the new North Douglas Athletic Complex.
In these days of tight budgets and limited resources, generous supporters like you help make it possible for us to give our students the best possible athletic and educational experience.
If you haven't already done so, don't forget to take advantage of the printable discount coupons whenever you need to shop or stay at a hotel. The offers are updated frequently and you can use them as often as you'd like. To access them, go to DonateToMyTeam.com and type in our Team Password DCHS Tigers. You'll then see the links on the right column.
Thanks again for your support,
The Douglas County Dugout Club
---
Our Generous Supporters
Carolyn Abbey
Action Heating & Air Conditioning
Dr. Dimitrios Arfanakis
Evelyn Atwood
Robert Baird
Douglas Banks
Greg Barker
Joann Barwick
Wes Britt
Stuart Bennett
Jay & Lisa Bergstresser
Pamela Bice
Juanita Blamble
Betty Brown
Donald Boyd
Tim Buff
Ann Buffington
Euriel Campbell
William Campbell
Shawn Carter
Arealus Chappell
Chandler Exterminators Inc
Cynthia Cheek
Charles R. Cline
Eugene Collins
Thomas Comte
Larry Cox
Georgie Hall Danley
Troy & Katie Decastro
Bart Denney
Erikson Fabrics Inc
Joe Ethridge
Timothy Ethridge
Sylvia Ethridge
Melissa Exum
Scott Fields
Phil Flanagan
The Framing Company
Edward & Janice Fricke
Sheryl Gaskins
Ruth Hale
Chloe Harden
Diana Haren
Pamela Harrington
Hartley Rowe & Fowler P.C.
Connie Hayes
Georgia Hill
Charles Holiness
Jacob Holder
Esther Hoppe
Victor Jeter
Patricia Jolly
Henry J. Kennedy
Anthony Kirk
Lillie Kirk
Kerri Kolwicz
Harry Kone
Youlanda Kraemer
Peter Larkin
Cathy & Irvin Levine
Mr. & Mrs. Roy Lichlyter


Fred Lohmeier
Luke Conway Long
Mrs. Max Long
James Losey
Jeff Losey
Ronald Losey
Betty Loudermilk
Elaine Maggio
Holly Malakar
Christopher Mariani
Helen Martin
Geraldine Masters
Joann Mathis
Beth McClure
Dorothy McGrath
Belinda Meyer
Patricia Molo
Cary Moody
Jessica Moroney
Margaret Moroney
Audrey Odom
Gladyse Patterson
Ellen Peebles
Mr. & Mrs. HL Perkins
Lee & Kim Perkins
Pro Contractors Inc
Angela Richardson
Eva Rigdon
Warren Scandrick
Kim Seeger
Allen Sexton
Sleek & Williamson Ins Agency
Winifred Smedley
Eddie Snowden
Jeff Starnes
Joe and Kathleen Stento
Dorothy Sparks
Glenda Streetman
Connie Tibbitts
Jerrell Tibbitts
Retha Tibbitts
Dr. Joel Tidwell
Terrin Thomas
Ann Thompson
Elaine Thompson
James W. Thompson
Valerie Thompson
Ida Vaughan
Constance Wade
John Wade
Janice Waters
Joel Watson
Marilyn Watson
Wayne Watson
Jack Webb
Robert Wilkes
Janet Wilson
Crystal Wizner
Elaine Wizner
William Zachery

---
Online Donors Wish the Tigers Good Luck
Tyler Blamble
Terrin Thomas - Good luck this season
Joe and Cathleen Stento - Good Luck this season. We're rooting for you and we are so proud of you! All our love.
Bryan Campbell
William Campbell - Good Luck this season. We're rooting for you and we are so proud of you! All our love.
Robert Deans
Kerri Kolwicz - Congratulations on your success. We hope this donation will help your team achieve its goals.
Michael Graff
Charles R Cline - Congratulations on your success. We hope this donation will help your team achieve its goals.
Connor Moroney
Robert Wilkes - Good Luck this season. We're rooting for you and we are so proud of you! All our love.
Jessica Moroney - Hey Connor, good luck this season. We are looking forward to catching some of your games soon! Love Bri and Jess
Jordan Losey
Holly Malakar - Good Luck this year I know you will do great. I wish we lived closer so we could go to your games. Avah say's "Hi Unket George"
Drew Norton
Greg Barker - Call one of your shots for me!
Lisa K. Bergstresser - DrewMan Best wishes for a winning season. We love and think of you often. Now don't bug Mom about fund raisers! Love Aunt Lisa & Uncle Jay
Eddie Snowden Jr - Good Luck this season. We're rooting for you and we are so proud of you! All our love.
Lee and Kim Perkins - Tell them Uncle Horace will cut the grass! Love You Drew ! "The Jakester"
The McClure Family - Good luck and let us know your schedule so we can cheer you on!
Joe and Cathleen Stento - Good Luck this season. We're rooting for you and we are so proud of you! All our love.
Elgine Porter
Charles Holiness - Good Luck! I am so proud of you and I wish you all the best.
Gary Thompson
Carolyn Abbey - Good Luck! I am so proud of you and I wish you all the best.
Zach Odom
Pam Bice - We are proud of you Zach have a great season and we love you!! Mark, Pam, Kassie and Georgia
Audrey Odum - Good Luck! I am so proud of you and I wish you all the best.
Sean Watson
Tim Buff - Good Luck this season. We're rooting for you and we are so proud of you! All our love.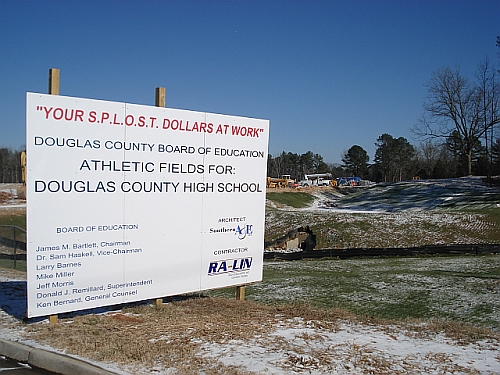 Tigers break out the sticks in the seventh to score 8 runs and put the first win on the books for 2010.
Thursday night, the DCHS Tiger varsity baseball team launched the 2010 season with a convincing come-from-behind win against the Osborne Cardinals. The victory marks the first season opening win in three years and hints at a promising season to come.
Despite the bone chilling cold, the Cardinals starting rotation, and trailing for five innings, the Tigers never quit. Douglas County bats came alive in the sixth inning and continued through the last inning as the Tigers put away the Cardinals in the seventh to win the game 14-7.
Osborne jumped out early on the Tigers, scoring on four hits and two unearned runs to take a four run lead on the Tigers.
In the top of the third inning, sophomore Ike Carter got the Tigers on the board with a two-run blast over the center field fence. The Cardinals answered with two more runs in the fifth and DC entered the sixth inning down 2-6.
The Tigers found their groove with Jacob Finken coming through with an infield hit to third base. Seniors leaders Michael Graff and Greg Wizner combined for a walk and a single to load the bases. With the table set, Sean Watson connected with a 2 RBI single and Dylan Etheridge finished the inning with another base hit, driving in two more runs and to pull DC even with the Cardinals 6-6.
Osborne would not be denied in the bottom of the sixth and scored another run off winning pitcher Matthew Richards. Richards remained calm retired the remaining Osborne hitters to give the Tigers a chance heading into the last inning.
The Tigers really broke out the bats in the top of the seventh, starting with an infield hit from speedster Gray Thompson and several walks issued by the Osborne relievers. Sophomore Elgine Porter came to the plate with bases loaded and promptly crushed a bases-clearing triple to push DC ahead 11-7.
Sophomore reliever Bryan Campbell took the hill with a commanding 14-7 lead and finished the bottom of the seventh by retiring all three Cardinal batters he faced.
"I was very happy with the way we opened up," said Tiger Coach Alan Adair. "I was pleased particularly with the play of our younger players. Ike and Elgin really stepped up, with six RBIs between the two, and then Campbell shut the door.
"This was our first opening day win in three years, and to put up 8 runs in the last inning, it really feels good," Adair continued. "We've got to keep the momentum going into tonight against a talented Landmark squad."
Contributed by Dave Watson.