Welcome to Elmira District Boys Varsity Soccer!! Home of the Express!!
This is a site dedicated to the Boys' Varsity Soccer team for the Elmira City School District in Elmira, New York. The team is a member of the Southern Tier Athletic Conference (STAC) and participates in the West Division. Elmira is also a member of the New York State Public High School Athletic Association (NYSPHSAA).
NYSSWA Final State Ranking - 2006 (#10), 2007 (#19), 2010 (#16)
STAC West Division Champions - 2002 (Co-Champions), 2007 , 2008, 2012 (Co-Champions), 2018
STAC Finalists - 2008, 2018
STAC Champions - 2008
#1 Seed in Section IV Tournament - 2006, 2007, 2008, 2009, 2010, 2012 (shared), 2018
NYSPHSAA Section IV Finalist - 1988, 1989, 2002, 2006, 2007, 2010 , 2013, 2017
NYSPHSAA Section IV Champions - 1989, 2006, 2010
Southern Tier Athletic Conference
STAC West STAC Metro STAC East
Elmira (AA) Vestal (A) Oneonta (B) Horseheads (AA) Johnson City (A) Susquehanna Valley (B)
Corning District (AA) Union-Endicott (A) Chennango Valley (B)
Ithaca (AA) Maine-Endwell (A) Seton Catholic (C)
Binghamton (AA) Owego (B) Chennango Forks (B) Norwich (B) Windsor (B)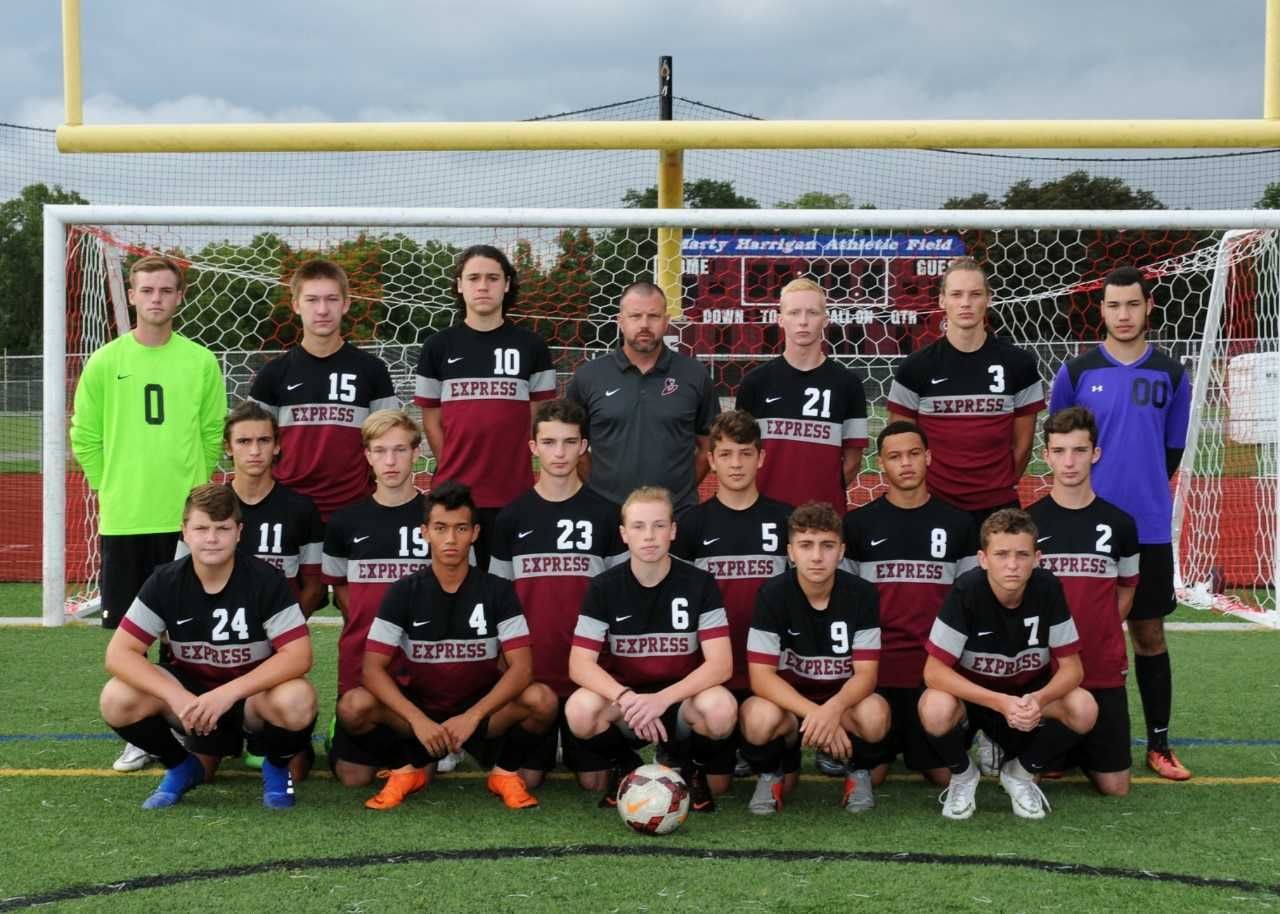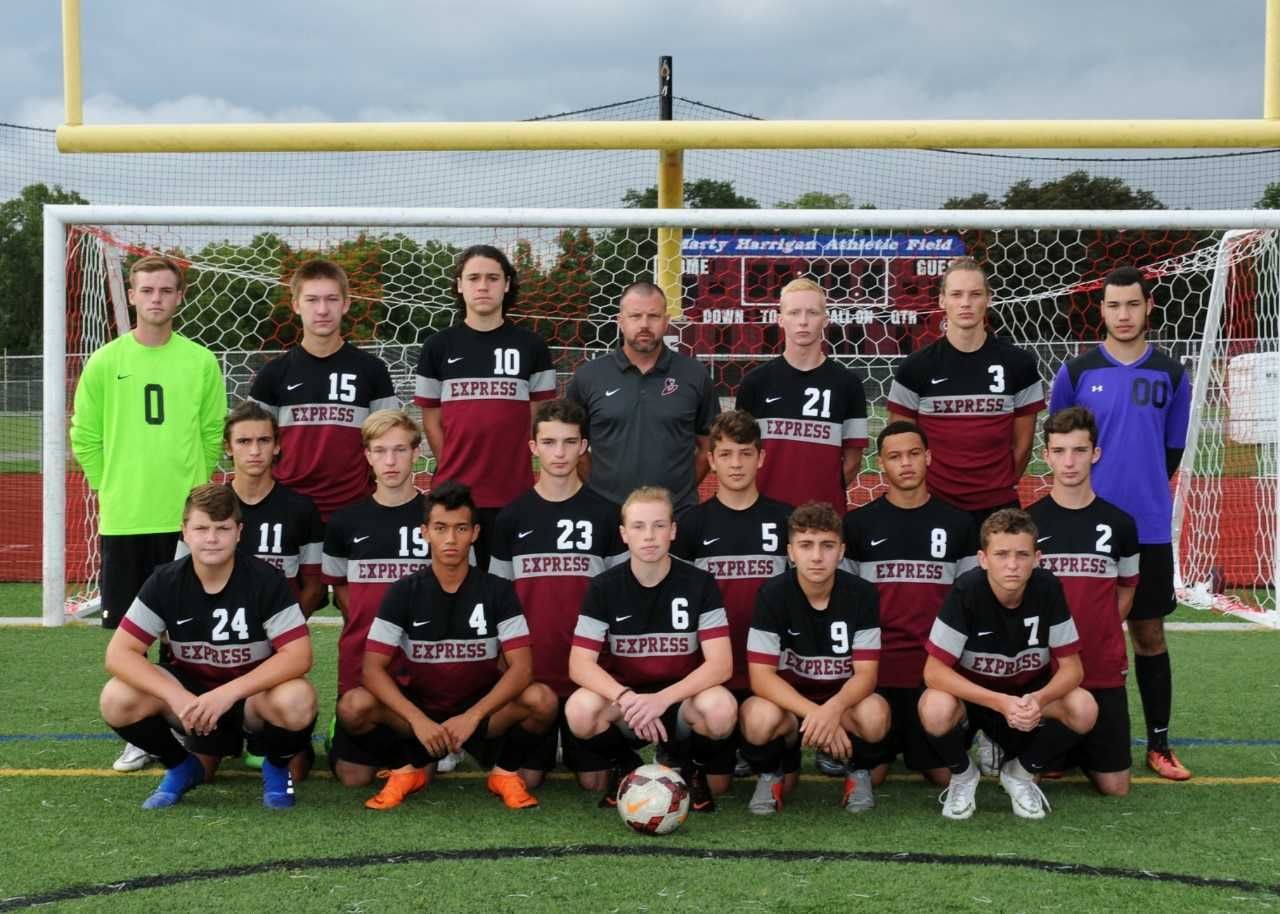 Kevin Stevens, Binghamton Press & Sun-Bulletin Published 9:46 p.m. ET Oct. 16, 2018 Updated 12:50 a.m. ET Oct. 17, 2018
Call it a sweet repeat for the fellas from Vestal, who retained Southern Tier Athletic Conference soccer supremacy by avenging a season-opening setback.
Sophomore Mark Pradun provided the final goal with 15:57 remaining Tuesday night at Dick Hoover Stadium, pushing the Golden Bears past Elmira, 3-2.
Pradun accepted a feed ahead from Dan Mansfield and, mano-a-mano with Express goalkeeper Nate Burrows, popped one in to break the second tie on a chilly evening.
Mateo Lata and Mansfield also provided goals for the Bears, who'd not forgotten many details from a 3-2 season-opening loss to Elmira and denied the guests their first conference title.
Elmira, 2-0 semifinal winner over Oneonta, squared the match at 2 when Luke Baldwin converted a penalty boot awarded following boys being boys in the box with 21:01 to play.
Burrows, by the way, turned in one fine evening— and never mind the three goals permitted. This young man is a superior athlete, as repeated quick-twitch reactions to quality Vestal opportunities confirmed. Oh, and it would appear Nate can rise from synthetic turf with the best of them, and fearlessly at that.
Vestal, obviously frustrated here and there, was blanked through 50-plus minutes until counter-attacking off a thwarted Express corner kick.
Joe Gashinsky gained control and served one head for Lata, who caught a break when Elmira's attempt to clear went awry and proceeded to carry on and launch a shot while advancing outside the left post. Wasn't a ton of mustard on the shot— but the result was meaningful and necessary for Vestal to pull even at 1 with 29:15 to play.
The Bears went ahead a bit under five minutes later, Mansfield doing the honors from tight range.
"It was a ball lofted in the air," Mansfield said. "It was coming back out and I headed it down. I didn't know the goalie was out but he was out and it bounced up and over."
Burrows hastily retreated to head off the goal, only to watch the ball slowly and anguishingly cross the line and settle into the back of the net.
Clearly, Vestal was sparked by the go-ahead goal. However …
With 21:01 remaining, Elmira was awarded a penalty kick. Baldwin went left against a goalkeeper guessing the other way and it was all-square at 2.
Then came the go-ahead strike by Pradun streaking down the middle and set up craftily by senior captain Mansfield. One-on-one with the keeper, Pradun made good for the difference-maker.
"I saw Dan and I saw the defense was trying to bring me offside so I had to run— it was the fastest run I ever made in my life," said Pradun.
Thereafter, Vestal had a couple fine looks at insurance, only to have a leaping Burrows answer the call on one and the other venture a tad over the crossbar.
"They rallied each other," Bears coach Dave Barr said of what was firmed up at halftime. "I let them talk and they talked, the captains and the coaches. We all put forth what we thought would work and it came through in the second half."
He added, "That was great soccer. (Elmira coach Derek Hamilton) did a great job with these guys, they're peaking right now. It was a great game, back and forth between quality teams. It was fun to watch."
Ahead for Vestal will be the final of Section 4's two-team Class A tournament, Oct. 27 against Maine-Endwell at the Wright National Fields in Oneonta.Elmira opened the season with that one-goal victory at Vestal — and led by three in that one — over an opponent that was unbeaten state champions in 2017.
"It feels really good. All of us trained really hard over the season after we lost and we wanted revenge against Elmira," Pradun said.
And from Mansfield: "We didn't come out very well, sloppy and just getting adjusted to the intensity of the game. At halftime, we decided that we really needed to pick it up and play like we usually do."
Andrew Legare, Elmira Star-Gazette
Goals from Cameron Kelly-Hobbs and Noah Sperduto carried the Elmira Boys soccer team to his first appearance in the Souther Tier Athletic Conferece championship game with a 2-0 victory over Oneonta on Saturday afternoon at Ernie Davis Academy.
Kelly-Hobbs scored off a Sperduto assist with 30 minutes, 20 seconds left in the opening half. Sperduto's goal with 7:56 to play was assisted by Kelly-Hobbs.
We came out really, really strong, created two or three really full opportunities in the first couple of minutes and got a goal out of it," Elmira coach Derek Hamilton said. "I thought we were unlucky not to get another one."
"However, that last 60 minutes of the game I thought was played pretty even. Oneonta's a pretty good team and you could tell they're used to getting some victories. The kept pressing. Even when we took that 2-0 lead with eight minutes to go, they were still on us. They weren't going to give up."
Oneonta suffered it's first loss, dropping to 13-1.
Elmira (10-2-2) will face Vestal (12-3) in the championship game at 7 pm Tuesday at Vestal's Dick Hoover Stadium. The game had been tentatively scheduled for Monday, but it was moved back a day because of stadium availability.
Elmira is seeking the school district's first STAC title in boys soccer since Hamilton's Elmira Free Academy team won in 2008.
Five things you need to know from this game:
Kelly-Hobbs Provided a Quick Boost
Kelly-Hobbs put home a hard shot that deflected off Oneonta goalkeeper Brad Morell for his third goal of the season.
"Cam made a great late run through the midfield and got in behind the last defender," Hamilton said. "Noah put it on his foot and Cam did the very difficult job of still finishing it with the goalkeeper breathing down his neck. Fantastic."
Sperduot Struck Again
Sperduto's goal came after he beat two Oneonta defenders to get enough space to squeeze the ball into the net. It was his 21st goal for the fourth-team all-state pick from last season. Hamilton said even with Oneonta double-teaming him often Saturday, Sperduto was his typical impactful presence.
"Oneonta knew exactly what they were going to have to deal with with him and he still created our first goal, which just shows his unselfishness," Hamilton said.
Burrows Was Strong In Net
Elmira also had a strong game in the back third, with Oneonta coming up with some quality chances to even the score before Spreduto's goal. The last man back was goalkeeper Nate Burrows. Hamilton said goalie can often be a thankless job, with one goal allowed providing more visibility than 10 saves. On Saturday, Hamilton was thankful for the job Burrows did.
"We called on him two or three times today and he came up big all two or three times," Hamilton said. "He kept us in the lead and that's what we needed out of him today."
Baldwin Provided Help to Back End
Another key for Elmira was moving midfielder Luke Baldwin to centerback with about 15 minutes remaining. Hamilton described Baldwin as a "wild card" for the team, offering another top offensive force along with Sperduto, while also having the versatility to play all over the field.
"With 15 minutes to go, we were holding that lead, Oneonta looks like they're pressing a bit," Hamilton said. "We move him back to centerback and he is just a calming influence for us. He wins everything in the air and it's nice to be able to rely on him, as well as Zach (Odum), Max Odom, Anthony Manzari, Jakub Ziembicki, as well as Nate Burrows. They're just a solid back five and six when we play them."
Win Sets Up Rematch
Elmira opened the season with a 3-2 victory on the road over Vestal, which last season went unbeaten and won the Class A state championship. Hamilton expects the Golden Bears will be primed for a rematch.
"Vestal's a great team," Hamilton said. "They've only lost one other STAC game, that was to Maine-Endwell. We were lucky enough to knock them off game one. I'm sure they've been circling that on their schedule. As soon as they knew we had a chance to meet them in the game, I'm sure they'd want to see us to avenge that loss."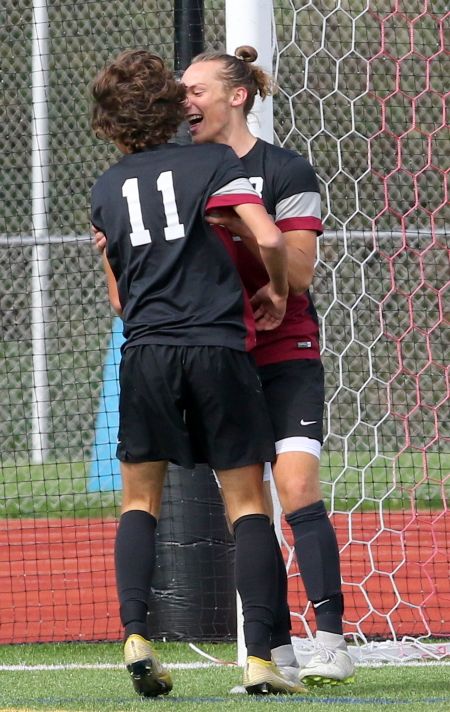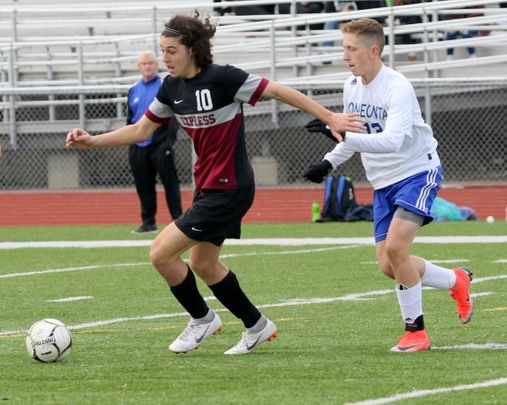 Andrew Legare, Elmira Star-Gazette Published 8:18 p.m. ET Oct. 4, 2018 Updated 9:17 p.m. ET Oct. 4, 2018
Noah Sperduto continued his brilliant junior season with three goals Thursday afternoon as the Elmira boys soccer team put itself on the doorstep of the Southern Tier Athletic Conference West Division title with a 4-1 home win over Binghamton at Ernie Davis Academy.
The Express finished the regular season 9-2-3 overall and 8-2-3 in STAC play, giving them a conference point total of 27 (three for a win, one for a tie). For Elmira not to win the division, Horseheads (5-2-3) would have to win its three remaining regular-season games and beat the Express in a tiebreaker.
Here are some key points from this game:
Elmira now waits
The Express could clinch the division title as soon as Friday if Horseheads doesn't beat Corning in their 4:30 p.m. game at Horseheads High School. The contest was originally scheduled for Thursday before rain and field conditions caused it to be postponed. Horseheads has another makeup at 7 p.m. Saturday at Binghamton before hosting Maine-Endwell on Oct. 9.
If you're Elmira, it's a tricky situation.
"You want to go and watch these games, but it's hard to cheer against teams because you're friends with coaches and players," Elmira coach Derek Hamilton said. "We'll be certainly hoping for a result that will be in our favor."
Express rebounds after loss
Elmira, ranked as high as No. 3 in Class AA at one point by the New York State Sportswriters Association. ended a three-game winless streak that included a scoreless tie against Horseheads and losses to Maine-Endwell and Ithaca. Elmira fell at Ithaca, 3-0, on Wednesday night after that game was pushed back a day because of rain.
"You always want to end (the regular season) on a winning note, especially going into bigger games in the postseason," Hamilton said. "Not just scoring four goals. That's nice, but playing well I think is the more important thing at this point. You can play well and win 1-0 and I'm still content with it. Just beginning to get our momentum back and our mojo back is big for us I think."
Sperduto, Baldwin lead scoring
Sperduto scored twice in the first half and used his dribbling skill to notch the only goal of the second half to reach 20 goals this season. That follows a sophomore year in which he scored 17 times and earned fourth-team all-state honors.
Baldwin gave Elmira a 3-1 advantage with a 28-yard blast into the left side of the net with 7:19 to go in the first half. Baldwin assisted on two of Sperduto's goals, with the other Elmira assist coming from Kytrell Stroman.
"For the last week and a half we haven't been at our best, that's for sure," Hamilton said. "It helps a little bit getting some injuries recovered, getting Luke Baldwin back in the midfield. We created a lot more opportunities today and I hope we continue to do that going forward."
Top seed clinched
Hamilton said Thursday's victory clinched the top seed for the Section 4 Class AA tournament. Elmira will be home for a semifinal at a future date. Ithaca, Corning and Horseheads have also clinched AA playoff spots, with their seeds still up in the air.
Seniors honored
At halftime, Elmira recognized the five seniors on the team with a ceremony. Along with Baldwin, the other seniors are Jake Daubner, Landon Erickson, Jacob Mawhir and Evan Moore.
Patriots struck early
Binghamton had the early momentum Thursday when Liam Charles scored off an assist from Luka Rizzuto. Sperduto answered with back-to-back goals, giving Elmira a 2-1 advantage with 26:41 left in the first half.
The Patriots fell to 4-9.
Follow Andrew Legare on Twitter @SGAndrewLegare.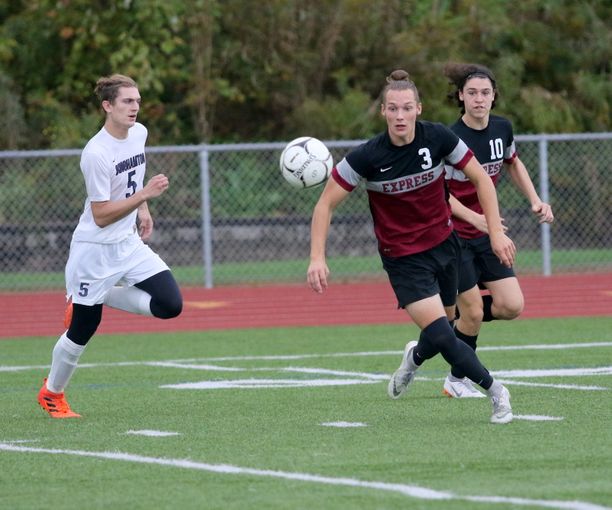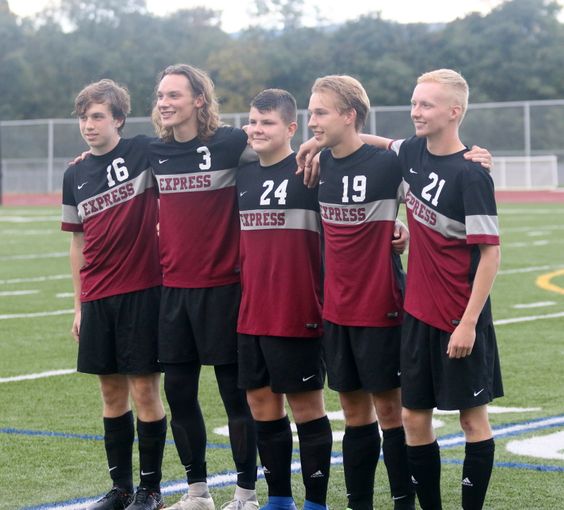 Andrew Legare, alegare@stargazette.com @SGAndrewLegare
Elmira remained unbeaten this season in boys soccer, though for the second time this season the Express couldn't find a way to beat Horseheads.
The teams played to a 0-0 tie Tuesday afternoon on the artificial turf at Ernie Davis Academy's Marty Harrigan Athletic Field. Earlier this season, they finished in a 1-1 tie on Horseheads' grass field.
Elmira, the leader in the Southern Tier Athletic Conference West Division, is now 8-0-3, with the other tie coming against defending division champion Ithaca. Horseheads' record stands at 3-2-3.
The goalies had a lot to do with the dual shutouts. Horseheads keeper Brendan O'Brien made five saves. Nate Burrows had six saves for Elmira.
Both teams had chances
Elmira had the edge in quality scoring opportunities in the first half, including hitting the crossbar on a shot.
"I thought we were really good in the first half, created a lot of chances," Express coach Derek Hamilton said. "We were a little unlucky not to get one. We had some cramping up in the second half, some fatigue. I thought Horseheads came back and played a much better second half than they did in the first half and equalized that mindset on the field."
Horseheads' top chance of the second half came from Riley Schwab, who struck the crossbar early in the half, setting off a scramble in front of Elmira's net that ended with Schwab sending a soft bicycle kick into the arms of Burrows.
The second 10-minute overtime session ended just after Carter McCreary's free kick from 30 yards away struck the football goal post just above the crossbar. Boys soccer uses a golden-goal format, with penalty-kick shootouts used only in postseason play.
"I'd say after the first 20 minutes of the first half, I thought we played excellent," Horseheads coach Mark Mucci said. "We had the ball down in their end, we had a couple of quality opportunities in the second half. They did too. They're a great team, but we had the bar down (shot) that didn't go in in the second half."
Elmira shut out for first time
Horseheads was the first team this season to shut out the Express, which is ranked third in the state in Class AA by the New York State Sportswriters Association. Elmira entered the game with 24 goals, including 16 from all-state junior forward Noah Sperduto.
Mucci said his players did a nice job preventing Sperduto and Luke Baldwin from doing damage Tuesday.
"We just try to play good, solid team defense," Mucci said. "We make sure we double down when we have the opportunities. We kept good shape today. We always made sure we weren't flat and we had a good stagger and they had no free runs through our line and no free shots. … Just overall great team defense from the forwards all the way to my back line and my keeper. Great team effort. Very proud of these guys. I'll take the 0-0 draw."
The Blue Raiders did a good job preventing Sperduto from finding space to unleash his big shot. They also denied him any breakaway chances, with Sperduto just offside on one potential such chance.
"They've played pretty defensive this year, making sure there's numbers behind the ball to neutralize Noah and a lot of his touches were farther away from the goal," Hamilton said.
The turf factor
Horseheads is the lone STAC West team that still plays home games on natural grass, which can lead to a period of adjustment for road games. That was the case again Tuesday, though Mucci cited an early scoring chance as one of the best of the day.
"We're always a little slow to get rolling on turf and kind of the same thing tonight," Mucci said. "Actually, we got out of the gate quick. I thought we were going to score in the first minute. We had a good opportunity where we broke through and Sal Evola fed Riley and we almost scored a minute into the game. We just missed it. But usually we've got a little catch-up on the turf, getting used to the play."
Raiders lose key player
With just under 29 minutes to play in the second half, Horseheads senior captain Connor Thorpe was struck by a teammate's cleat during a scramble in front of the Blue Raiders' goal. Blood was gushing from near his eye and the game was quickly stopped as Elmira athletic trainer Rory Fawcett ran onto the field to treat Thorpe. She continued treatment on the sideline before Thorpe left the school to be checked at an area hospital.
Mucci, who was unsure just after the game which hospital Thorpe went to for treatment, said the senior had a cut near the orbital bone of his eye.
The bigger picture
With Ithaca and Corning also playing to a 0-0 tie later Tuesday, Elmira maintained its six-point lead on Ithaca in the division standings. Teams receive three points in the standings for a win and one point for a tie. The Express has three regular-season games left and still boasts an unbeaten record.
"That's the positive I gave the kids after the game," Hamilton said. "I said, 'Listen, we're still undefeated and they can't take that away from us.' (Horseheads) is a team we might see in sectionals. We've just got to continue to improve and make sure we're playing our best soccer when we get to that point."
Horseheads is still trying to play its way into sectionals. To qualify, teams must have a .400 overall winning percentage or a .500 percentage against teams in their own class. The three ties don't factor into the percentage, so Horseheads' currently has a .600 winning percentage with six games to play. The Blue Raiders are 1-1-3 against Class AA opponents.
Up next
Horseheads is home against Ithaca at 5 p.m. Thursday. Elmira is also home Thursday, with the start time against Maine-Endwell at 4:30 p.m. at EDA.