Full results in the handout below.

Monte Vista Cross Country
Alumni Race -

Top 10 Times
2.0 Miles / Oak Hill Park
2006 thru 2016 results
Boys Race
Name
MV Class of
Time
Year
1
Bhavik Kanzaria
2008
10.38.6
2012
2
Drew Feldman
2012
10:41
2014
3
Michael Garaventa
2011
10:43
2015
4
Mike Roderick
2009
10:55
2009
5
Daniel Maneloveg
2017
10:58
2016
6
Trevor Fuhriman
2012
11:06
2015
7
Nick Vomund
2017
11:28
2016
8
Dustin Harris
2008
11:29
2015
9
Josh Smiley
2011
11:34
2014
10
Harry Nunns
2008
11:37
2007
Girls Race
Name
MV Class of
Time
Year
1
Brooke Starn
2016
11:46
2016
2
Meredith Corda
2017
12:36
2016
3
Nicole Aha
2010
13:14
2013
4
Brittany Rezowalli
2004
13:19
2009
5
Erin Herting
2014
13:33
2013
6
Katharine Smiley
2013
13:35
2013
7
Brett Zorich
2008
13:40
2013
8
Susan Chan
2001
13:50
2007
9
Catherine Kiser
2017
13:55
2013
10
Kimmy Abood
2010
13:58
2009
A great turnout today as over thirty alumni and former coaches showed up at Oak Hill Park for the 11th running of the MVXC Alumni Race. While the day started foggy and windy, it cleared at race time and the conditions were nearly perfect. A fantastic buffet was prepared by the parents, led of course by Carole Friesen & Coach Corda, and photos and news clippings from Coach Davis' archives were on full display.

Many alumni showed up to cheer on their teammates, but more than enough laced up the old racers and took on the course once more. On paper, the races seemed pretty close, with the alumni engaging in traditional trash talking in an effort to intimidate the current team. However, it would take more than talk to do that!!

After the usual check in and socializing, the runners made their way to the start for a 9:30 start. Former coaches Mike Huntsman (timer) and Austin Glimme (starter) were ready. Retiring Coach Mike Davis gave a few rules, then led a moment of silence for the missing MVXC Santa (RIP - 2005 to 2016). Many alumni could be heard dedicating today's race to our dear missing comrade.

Conventional wisdom for the Monte Vista course, is to be cautious in the first mile, as the good ole Eliminator awaits in the second mile. However, both of today's winners - Alumnus Michael Garaventa and new Alumna Brooke Starn - are race-savvy veterans and had other ideas. Michael blazed out from the start, opening up a huge gap on the chase pack of guys. Brooke did the same to the girls field, quickly putting a big gap on the rest of the gals. Behind those two, the race was simply too close to call as it unfolded, with alumni and current team members mixing it up from the front to the back.

Typical of ALL alumni races, the intensity level varies as you go from the front to the back. Many alumni were determined to get through the 2 miles without needing EMT's at the end and kept the mood jovial throughout the race. The new members of the current team were wide eyed and nervous, but soon found that their summer conditioning had more than prepared them for the race.

As they came out of the hill, Garaventa's big start proved to the the difference, as current team senior Daniel Maneloveg had steadily gained on him but just ran out of race course at the end. Both ran top ten times. Michael's effort made him back-to-back alumni race champion (see separate story on Michael's ironman efforts at this race). On the boys side, Daniel was followed by current teammate Nick Vomund, who was followed by alumnus Tim Chrisman. Through four runners - dead even. On the girls side, the same thing happened. Brooke - who smashed the alumni record and set a new all time course record of 11:46 - was followed by current team runner Meredith Corda in 2nd (top ten time) with newcomer Reese Turner just ahead of alumna Alexis Baillie. Again, tied after four.

As the runners sprinted in, Coach Mandee and alumni Brett Zorich handled the scoring results, but nobody could tell for sure how it had ended up. In both races, the runners came in with the exact same points - a first for this event. In the end, cross country is all about how fast you can get your 5th scorer across the line, and in both cases, the current teams did so in 8th place, while the alumni fifth runners were in 10th. That was the difference, as both the current teams won by 26 to 29 scores! Several alumni who didn't race were mumbling about the outcome and blaming themselves! The current team would hear none of it, as they too were missing numerous potential scorers. Since the current teams are both defending NCS Champions... the alumni shouldn't feel too bad.

An award ceremony followed, where the top five in each race were honored. The Top Rookie award was given to newcomer Jackson Broaddus who came in 14th place in his first MVXC effort. Honorable mention to Reese Turner for her epic race as well. Special Alumni Awards went to Matt Bieniosek (class of 2005) as the oldest alumni to race, and then to Chase Glimme, who took her dad's "oldest alumni" medal based on her amazing first cross country race! She actually crossed the finish line ahead of Garaventa, although meet officials were looking for video to see if she really crested the Eliminator today!

After the awards, the team held a party for retiring Coach Davis. Many alumni and former coaches told great stories, and some not so flattering stories, about their experiences running for Coach Davis over the years. He is hoping nobody recorded the event, as the stories could be damaging to his ability to retain gainful employment. Coach Davis promises to stay involved in the program - we'll have to hold him to that.

Full results can be found in the attached file below. The top ten has been updated as well. We hope to see you all in 2017 for the 12th edition of this classic event!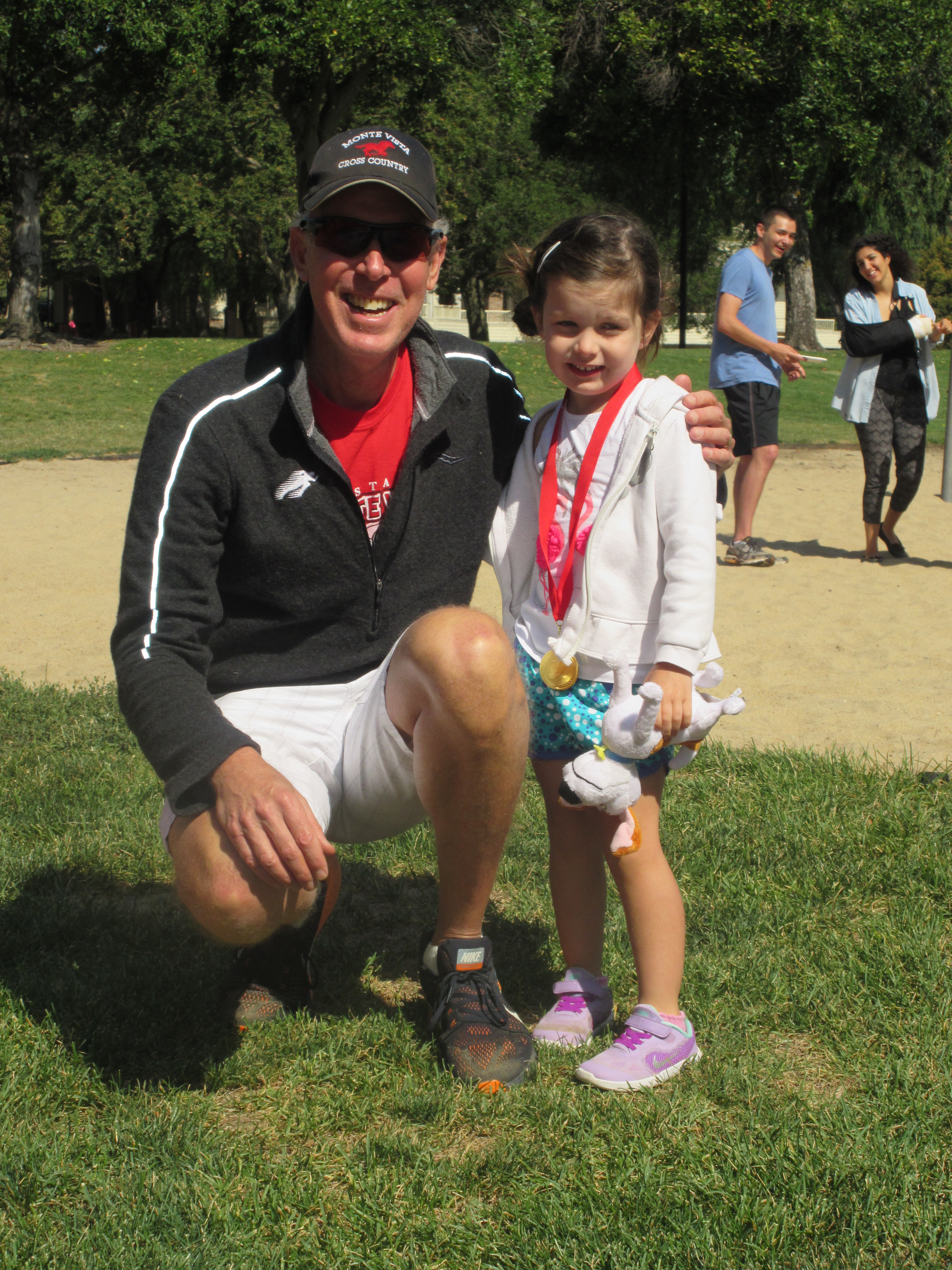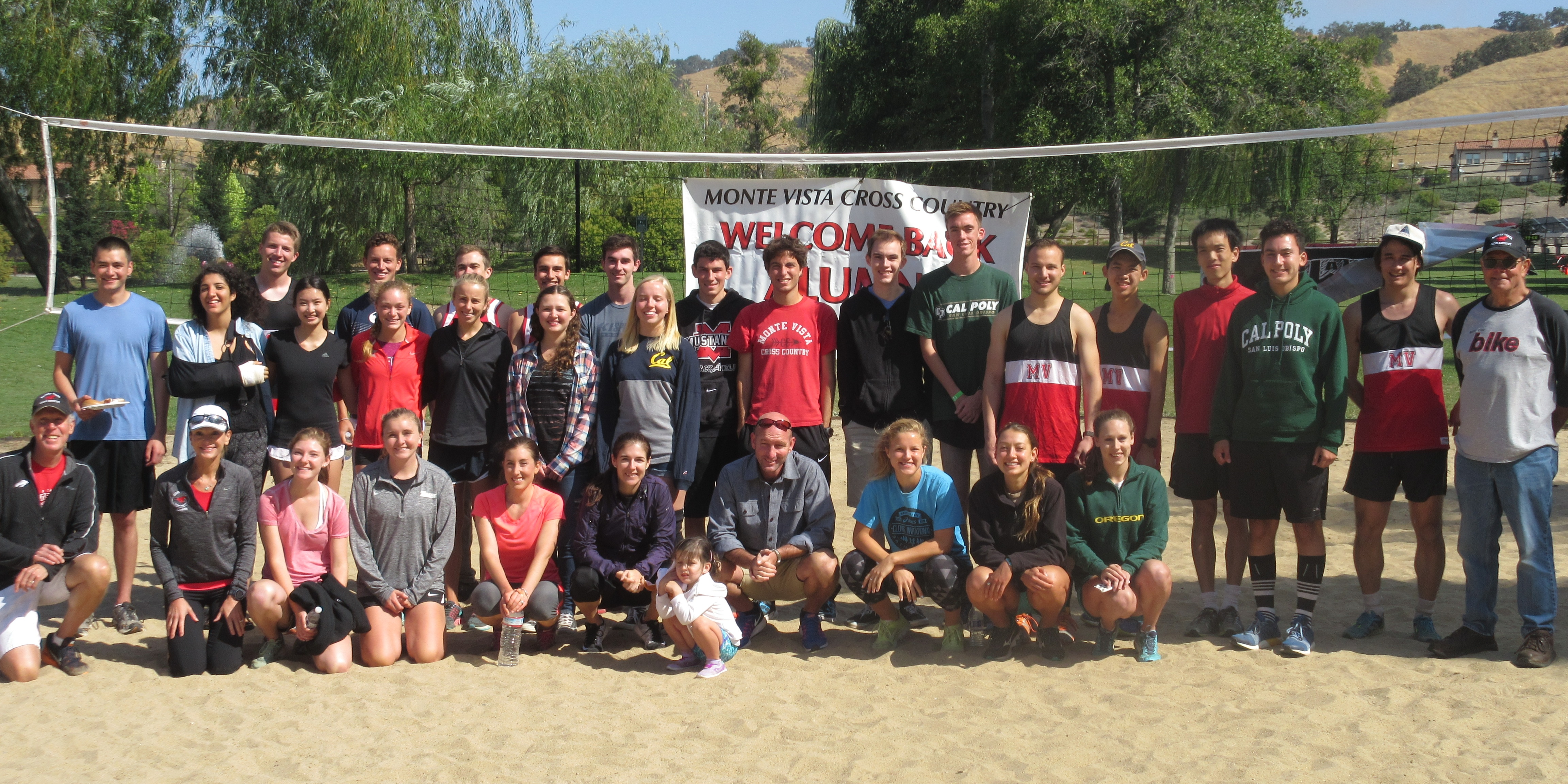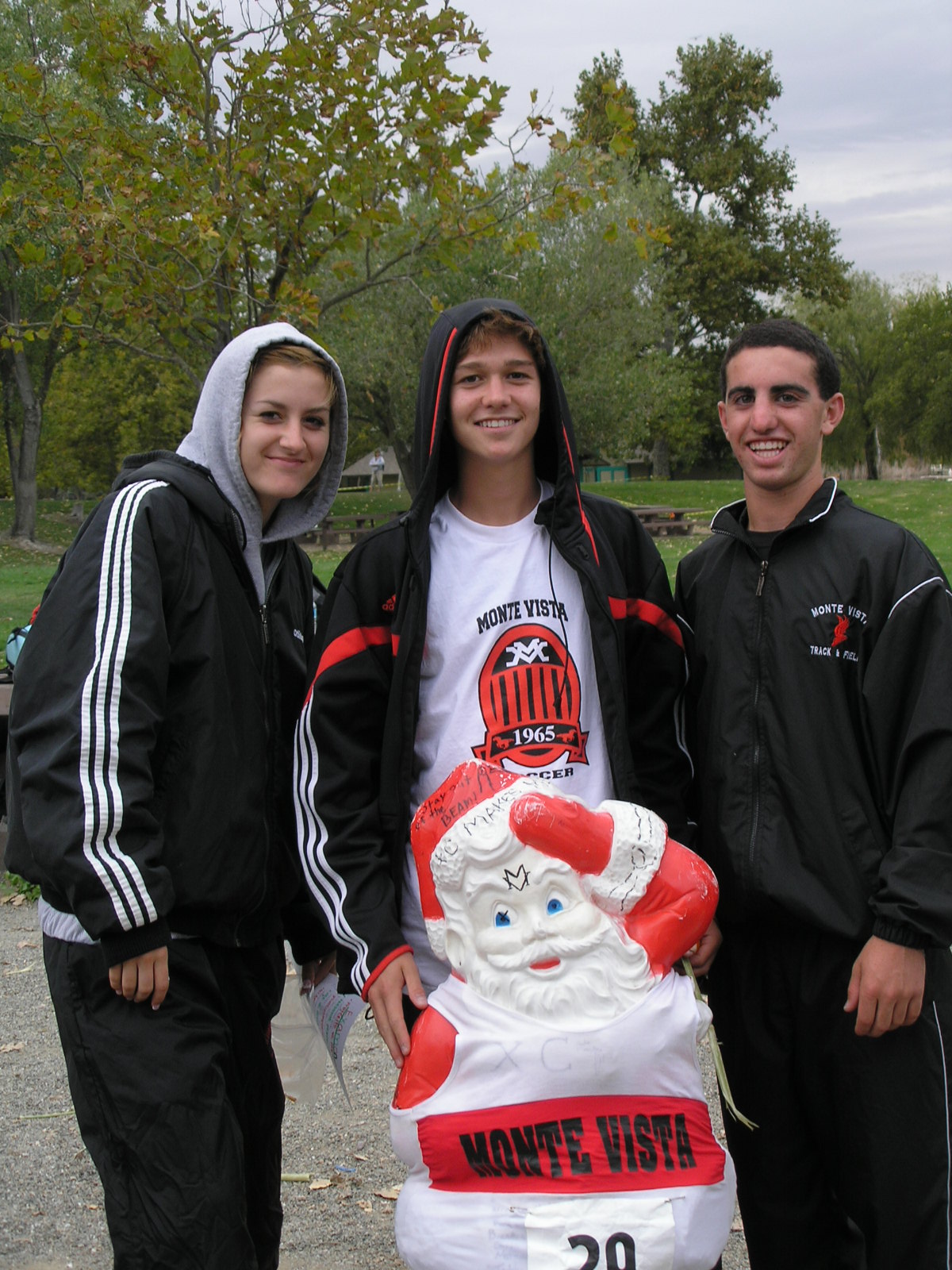 Camp Highlights
Photos will be added regularly.
Let's get ready for CROSS COUNTRY 2016!!

Incoming Freshman? Welcome! Summer run club is open and recommended for you, too! See above. And follow the below instructions to register for the team for fall.
All Runners: If you plan on running cross country this fall, follow the below steps:
Get yourself on our XC Stats mailing list RIGHT AWAY. We use XC Stats for team email, workout logs, and performance tracking.

You will need a registration code. Find the code in this document:

"Getting started with XC Stats". (This is step 1 for registering for Cross Country!). (If you already have an XC Stats account, email Mrs. Corda and ask her to reactivate you.)
Fill out and turn in the forms from your sports registration paperwork packet in the Monte Vista main office ON TIME.

They are due on or before July 22

. The main administration office will be open for sports packet drop off as follows: Tuesday, Wednesday and Thursday from 9:00 a.m. - 12:00 p.m. during the following dates: June 14-June 23 and July 6-July 22. For more detail, see: All about sports physicals: your questions answered.
Print, read, and sign the 2016 MVXC Student-Athlete Contract which must be handed in to Coach Mandee by the deadline: Friday, August 19.
Print, think about, and write down your goals on the goal sheet which must be handed in to Coach Mandee by the deadline: Friday, August 19.

NOTE: FALL SPORTS FORMS WERE DUE 7/22/16 TO THE MONTE VISTA OFFICE! Miss the deadline? You could try mailing them to the school office attn: Melissa French. No guarantee that they will be accepted late. The office is closed until Aug. 11.
Fill out and turn in the forms from your sports registration paperwork packet in the Monte Vista main office ON TIME. They are due on or before July 22. The main administration office will be open for sports packet drop off as follows: Tuesday, Wednesday and Thursday from 9:00 a.m. - 12:00 p.m. during the following dates: June 14-June 23 and July 6-July 22.
All About Sports Physicals

Monte Vista requires each athlete to turn in a "Pre-Participation Physical Evaluation Clearance Form". The state of California requires this form from all high school athletes. The form must be signed and stamped by a doctor. In my experience as Team Mom, there are three common mistakes that doctors, parents and athletes make with the physical forms:
a) The doctor's office fails to put the date on the form. Yep. Seriously.
b) The doctor's office fails to STAMP the form.
c) The athlete and parent fail to turn the form in on time and the athlete gets banned from participation.

You can get a physical from your usual doctor. If your last physical was completed less than one year ago and you competed in an MV sport last year, your existing clearance form is still valid. When you turn in your 2016 sports form paperwork, include a note on the physical clearance form "On File -- will turn in new 2016-2017 physical form as soon as athlete's 2016-2017 exam is due." Please note, however, that on the day last year's physical expires, the athlete will be barred from practice and meets until a new physical exam is completed and a new clearance form is turned in to the MV office. The administration is VERY strict about this.

If your health insurance requires you to wait a full year + one day between physicals, you might want to consider getting the Muir Orthopedics Pass to Play Sports Physical on July 30. With the sports physical done in the summer, an athlete will be able to compete all year in MVHS sports without interruption or needing to get another clearance form done.

Some doctors offices will fill out the physical clearance form WITHOUT doing a new physical. They will refer to the athlete's most recent physical exam and recent medical history and complete the form, sometimes without even an appointment. Call your pediatrician to find out. Usually, the office will charge a fee for the form to be completed.

If your athlete has a physical scheduled this summer and it will occur on or before Aug. 12, then, when you turn in your sports packet, include a note: "Sports physical is scheduled for (enter date). Will turn in clearance form immediately after."

Again, consider signing up for Muir Orthopedics "Pass to Play" Sports Physicals for just $30 on July 30. No health insurance needed! The exam's $30 total price is less than most people's co-pays to see their regular doctor. After you have received the signed and stamped copy of the Clearance Form back from Muir Ortho, submit it to Melissa French in the Monte Vista bookkeeper's office (you will have already turned in the rest of your forms with a note indicating the sports physical appointment on July 30). Muir Orthopedics supports Monte Vista athletics year round and, in particular, with a donation back to Monte Vista of $30 for each Pass to Play physical performed (yes, they donate back the full $30 exam fee).