RESULTS FOR THE 2017 MVI
Tuesday Sept 5th, 2017
Race Day Temp at 4pm - 89 degrees

Race Videos by Runnerspace / Dyestat are linked here -

Race Results for 2017 can be found here -

Post Meet Coaches Note:
Coaches - Here are the "combined results" for the boys and girls races - hope it helps with comparisons. Mike and I would like to thank you for attending our meet this year, and helping to make it what we hope was a fun day for your kids and your coaches and parents. While it was still pretty warm, it sure felt good after the weekend weather we experienced.

Despite running at the hottest point of the day, the fastest boys and girls times were turned in by the Juniors! Congrats to Preston Norris of Las Lomas (10:53) and Emma Tavella of San Ramon Valley (12:45) for their strong efforts yesterday. Team wise, Dougherty Valley turned in the strongest performance on the boys side, while SRV had a dominating run on the girls side.

The park was really clean last night - thank you for helping to police your areas. We hope the extra bathrooms helped. While we don't have final figures yet, it appears that sales from our snack table and t-shirts were robust. Thank you for supporting our efforts to raise funds for the Hurricane Harvey Relief.

We are always interested in improving the experience at our meet, so please let us know any areas of concern or improvement that you might have for us. Best of luck to you all this season, we hope you'll come back again next year - first Tuesday after Labor Day!

Mike Davis and Mike Huntsman
Monte Vista Invitational "The Home of the Eliminator"
Oct 19th: MVXC heads south for the largest two day XC meet in the country - The 69th Annual Mt SAC Invitational
Full Varsity and JV teams run with the top teams in California and beyond. Varsity Boys are 7th overall in the Team Sweeps race - top team from Northern California in the race. Varsity Girls are 9th with an incredible 30 second 1-5 gap. Sweeps races are the top teams from D1 & D2 combined! Girls JV in the "JV Championships" race and finish a strong 6th overall. Boys JV finish 9th out of 22 in their divisional race! The teams are in races
61
,
62
,
58
and
55
respectively.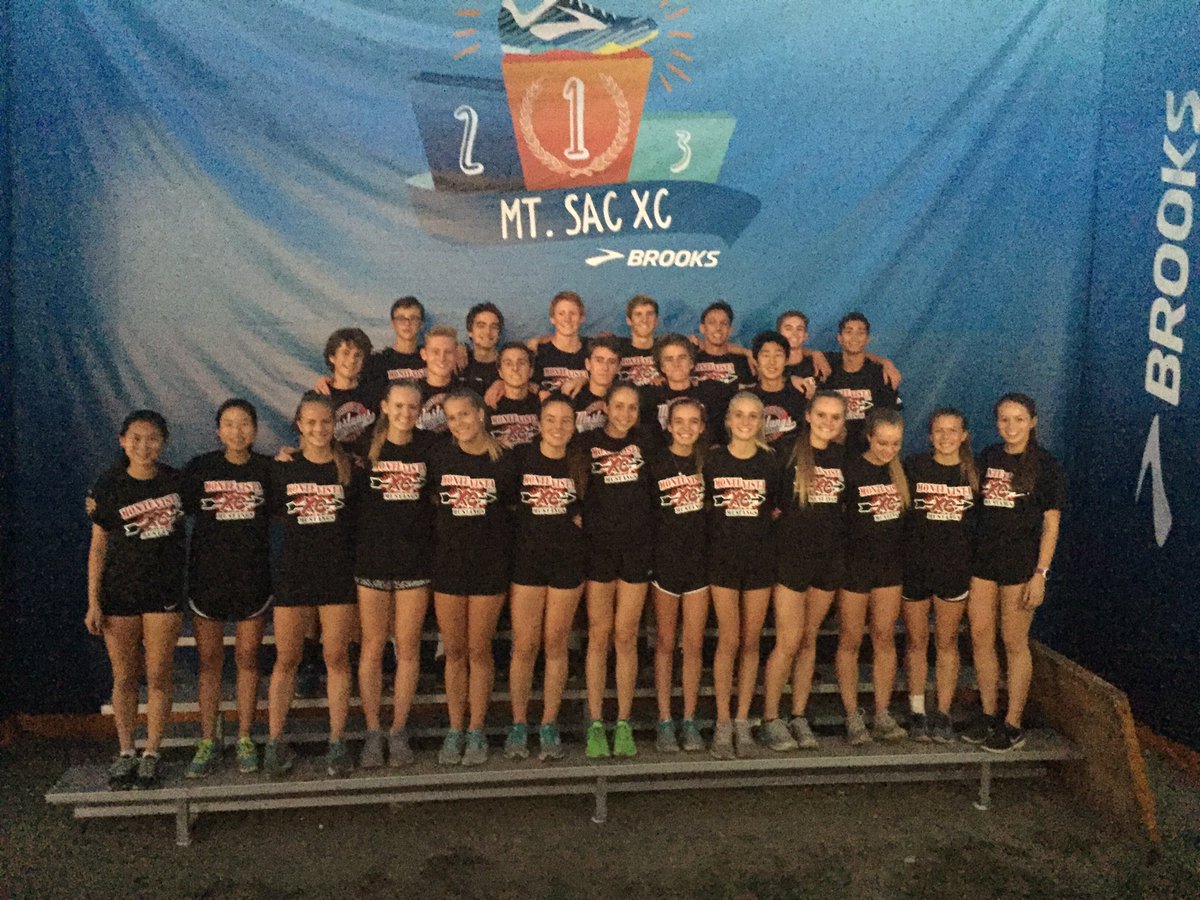 STATE MEET!
Strong performances close out the XC season at Woodward Park in Fresno. Girls once again finish 5th, this time in the tough D2 race. Last year they were 5th in D1. The Boys team finishes 11th today, just missing last season's 10th place effort. Senior Meredith Corda medals with a stellar 7th place finish - running half of the race with just one shoe! She moves to #2 all time at State for MVXC. Senior Tristan Miller leads the boys team, equaling the all-time Monte Vista mark at Woodward while finishing 15th. Results
here
. Full story pending.

North Coast Section Championship's:
Both MV Teams again make State! Record third straight season that both squads qualify to the ultimate cross country race! Boys take a strong second to State ranked Dublin, turning back EBAL foes Granada and De La Salle in the effort! Girls go all in with a epic performance, just missing the top spot by one point, finishing second on the day and punching their ticket again as a whole team. That's four straight years to state, and oh so close to a Section record "4 peat"!
From:
Courtney Corda <mail_sender@xcstats.com>
To:
Courtney Corda <ccorda925@gmail.com>
Sent:
Monday, November 14, 2016 9:39 PM
Subject:
Will history be made? And will you be there to watch? (Plus lost and found info and more)
This Saturday morning both our Mustang girls varsity *AND* our boys varsity will attempt to do something that has never been done before and they need your support.
Dear Cross Country Team Members, Parents, and Fans,
Stampede Into History?
The girls will be attempting to "4-peat" as NCS cross country champions. Not only has no Monte Vista team ever done that, no team from any other school has ever done it in divisions 1-4 either since the inception of the sport for girls in 1974. The competition will be FIERCE this year. Our girls will be facing local titans, Granada and San Ramon Valley, among other top teams. All season long, these girls teams have been trading victories and defeats and keeping close tabs on each other. The Matadors got the upper hand at the league meet, but our Mustangs are ready to show their real mettle this Saturday morning at 11:10 and aim to make history in the rematch. BUT THEY NEED YOUR HELP! Yes, they do. It really does help to have Mustang fans to cheer our runners on as they face some of the toughest competition in the state. The drive to Hayward is short and the thrill of the racing will be worth your time.
Be the "8th Man" for our Men
Basketball has its 6th Man. Football has its 12th Man. Our Mustang boys need an "8th Man" and that is YOU! Please come out and support your varsity squad. After the girls race, stick around and root for our guys. They are trying to make history, too. They are going for the school's FIRST EVER back-to-back NCS title in cross country. They are hungry to leave a lasting legacy and earn a bid to represent the NCS at the state cross country meet.
Where/When?
Girls Division 2 Race at 11:10
Guys Division 2 Race at 12:50
Hayward High School,

1633 East Ave, Hayward, CA 94541
Lost and Found
Are you SURE some of this stuff isn't yours? See photo attached. Like-new jackets, a uniform top, reading glasses, and more... Also found: a Timex running watch (not pictured). Please contact me if any of these items is yours.
Track
Start checking the track website and look for an email from Coach Kindell very soon for info on winter training for track. And, please listen for an announcement for the after school meeting about track the first week back after winter break.
Go Mustangs!
Courtney Corda on behalf of all the coaches
From:
Courtney Corda
To:
Courtney Corda
Sent:
Wednesday, November 9, 2016 10:42 PM
Subject:
XC News: Photos, PE Timecards, Post-Season
Dear Students and Parents,
This Thursday, Nov. 10, all team members are welcome to eat their lunch at in Mr. Jensen's classroom.
I will bring the following items and have them available for students to pick-up:
Team and individual photos from Yary Photography
Signed PE timecards for several runners
The GPA certificates from NCS for those who earned them
Lost and found items from the season
Slideshow -- did you miss the banquet? Check out the awesome slideshow with senior tribute that Mrs. Cassidy put together for us:
Want post-season news about our Mustang runners? Keep an eye on our team's main website at www.eteamz.com/mvxc for post-season news (and like our Facebook page and follow our Twitter account) as our varsity boys and girls compete and NCS.
Go Mustangs!
Courtney Corda on behalf of all the coaches