WELCOME TO
NORTH CLARK LITTLE LEAGUE
2017 Season!
Please take a moment to check out our
Sponsors
!
~~~~~~~~~~~~~~~~~~~~~~~~~~~~~~~~~~~~~~~~~~~~~~~~~~~~~~~~~~~~~~
MANAGERS MEETING THIS THURSDAY (Yes, the 23rd)
Starts at 6:00 PM, Pick up your equipment!
ALSO, check out our new BIG fundraiser, THE HIT-A-THON at 99pledges.com
~~~~~~~~~~~~~~~~~~~~~~~~~~~~~~~~~~~~~~~~~~~~~~~~~~~~~~~~~~~~~~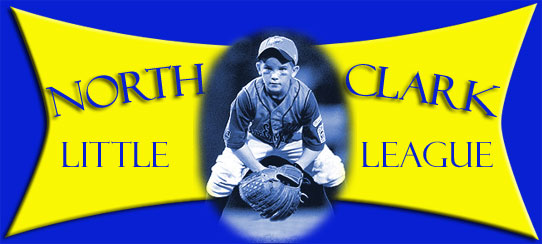 Our main fundraiser this year is sure to be a BIG hit! Every division will have multiple winners and two lucky families will be enjoying either the incredible fun of a.....
MARINERS vs. YANKEES GAME or A GIFT CERTIFICATE WORTH $350 TO THE GREAT WOLF LODGE!!
But the real BIG winner will be our community because the funds raised will be used to keep our future registration fees as low as possible.
For more details simply click on the headline above and thank you for all your support!
REGISTRATION
THURSDAY FEBRUARY 2nd
FROM 5pm UNTIL 7pm
(Payment plan available)
After Closing Ceremonies an election was held to determine the 2017 Board of Directors. The following are the results of those votes:
President - Tom McGraw

Vice President - Steve Knight
Vice President - Michael Lawson
Treasurer - Thelma Conder
Secretary - Stephanie Massie
Player Agent - Judy Hunter
Safety Officer - Les Clifton
Coaching Coordinator - Sam Sutton
Information officers - Michael Leonard and Suzanne Logan
Umpire in Chief -Tracy Lally/Steve Lehecka
Equipment Manager -Trevor Conder
Fields & Maintenance -Justin Allen
Scheduling and Uniforms Manager - Kelly Warrington
Sponsorship/Fundraising Managers - Christy Roberts and Amber Komm
Team Mom Coordinator - Lacey Yancey
Facility Manager - Yarin Cossette
The following positions are still OPEN and unfilled for the 2016 Season:
Thank you to all the Managers, Coaches, Board Members, Team Moms, Umpires, Parents, Players, and all of those who volunteered to help make for a successful 2016 Spring Season!
Please welcome Natalie Cossette as our new Snack Shack Manager! Natalie has been managing the Snack Shack this season and brings with her fresh ideas and new menu items!
New this year: Mozzarella Sticks! These are a huge hit and are selling fast! We also have Biscuits and Gravy on Saturday mornings.
Bring the family and enjoy some wonderful meals together!