Announcement
Posted by
Andy Kyle
on May 04 2019 at 05:00PM PDT
More editing options
PLEASE VISIT THE NEW SLGSA WEBSITE
CLICK THE RainedOut Button to sign up for text messaging alerts from SLGSA
If you or someone you know is interested in becoming an umpire, the person to contact is our District UIC, Rene Hart. Her email address is awcomeonblue@comcast.net.
**************************************************************************************
Please do not use infields if there are wet or soft spots (if your footprint is 1/8" deep or more, the infield is too wet). If you are not sure whether you are able to get on the dirt areas, please consult with the Director on Duty.
*******************************************************************
Thanks to our Field Sponsors
PRIME1CAR.com
Academy Sports & Outdoors
Dick's Sporting Goods
All of our sponsors are very important to SLGSA. Please visit their establishments and say thank you!
We are always looking to our business community to help offset some of our costs.
If you are interested in supporting our girls and SLGSA as a sponsor and would like more information,
please contact Anita Heredia at mailto:anita.can2@yahoo.com
Donate Used Equipment to the Recycled Baseball Items (RBI) Foundation
RBI is a non-profit 501(c)(3) organization, which collects and refurbishes used softball/baseball equipment and distributes it to underprivileged youth groups. Clean out your garage and give a deserving child an opportunity to play ball! Visit our website for more information: www.rbi-houston.org or contact Laura Leonetti at Laura1Leonetti@gmail.com
********************************************************
SLGSA IS Proud to Offer Game Access via Live webcam
Visit yourgamecam for Access
~
NO PARKING AT THE COMMUNITY CENTER
WE HAVE BEEN ASKED BY THE CITY PARKS & RECREATION DEPARTMENT TO BE CONSIDERATE OF THE PATRONS OF THE COMMUNITY CENTER AND TO NOT PARK IN THAT LOT.
ACCORDINGLY, ALL SOFTBALL PARKING SHOULD BE IN THE WEST LOT OFF OF HIGHWAY 90 OR ALONG THE STREET ON MATLAGE WAY.
THANK YOU FOR BEING CONSIDERATE.
**********
Recreational league play follows a modified version of the standard ASA rules. These exceptions allow the game to be fun and challenging for all players regardless of skill.
League teams will practice twice per week and play games during the week and on Saturdays.
~
MISSION STATEMENT
Our purpose as an association is to provide recreational as well competitive fastpitch softball programs to girls ages 5-16. The intent of both programs is to not only offer training in the sport, but to help develop girls in their entirety, through their moral, emotional, social, spiritual, mental, and physical growth.
Call 281.494.1085
For update on field conditions during inclement weather
Mailing Address
SLGSA
P.O. Box 198
Sugar Land, Tx 77487
-----------------------------------------------------------------------------------------------------
Questions about web content contact
slgsawebmaster@gmail.com
DISCLAIMER
While every effort has been made to ensure that the files on this website are accurate and up to-date, the unofficial information on this site is for the convenience of the public, and may not be as accurate or up to-date as information which is on hand at the ballpark. Accordingly, SLGSA is not responsible for any discrepancies between the information on this site and the information on file with the ballpark. Information on this site is only a starting point.For the most accurate information on a particular question, either email a Board Member or contact our information line. Thank you in advance and have a great day!
.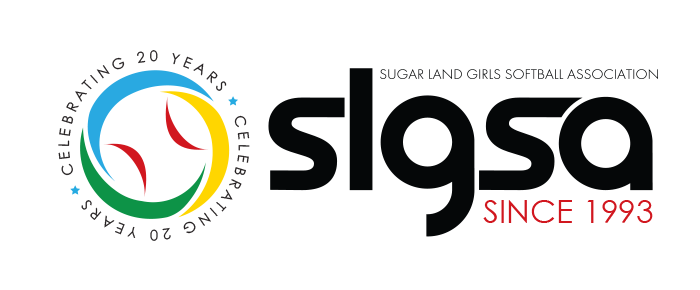 Comments
There are no comments for this announcement.