Announcement
More editing options
Welcome to the home of the
Chino Girls Fastpitch League!
Thank you for visiting our site! If you have any questions, please do not hesitate to contact us.
---
OUR SPRING 2019 SEASON IS COMING TO AN END!!
All regular season games conclude on 4/27. Playoffs start 4/29 and end on 5/4. Managers will receive notification of final seeding for playoffs by 4/28.
Please check our Website, Facebook, or Instagram for updated information on upcoming CGF events.
---
MILKCAN 2019
3 out of the 6 divisions are FULL!!
Please contact our Tournament Director, Lori Langrell, for any questions.
---
We are always searching for new board members and committee members. For more information, please contact us at info@chinogirlsfastpitch.com
---
Upcoming Events:
CLOSING DAY EVENT - 4/27/19 @ AYALA PARK, ALL DAY
CGF QUAKES DAY - 5/1/19 @ 7:15PM AT QUAKES STADIUM
SPRING PLAYOFFS - 4/29 TO 5/4 @ AYALA PARK, SCHEDULE TBA
MONTHLY BOARD MEETING - 5/8/19 @ 6:00PM AT THE CHINO NAC
---
---
Our mission is to provide players between the ages of 4 and 18 the opportunity for growth and development of softball and life skills to the highest level achievable through competitive softball.
For more information call our league hotline:
909.706.8122
CGF
PO Box 1246 Chino, CA 91708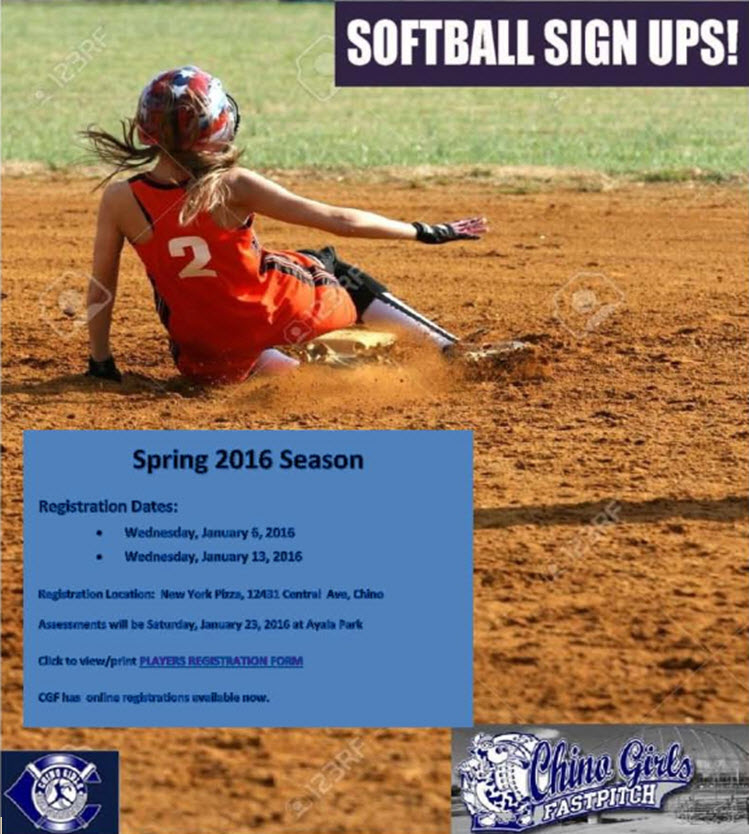 Comments
There are no comments for this announcement.