Announcement
Posted by
Jon McUne
on Apr 05 2019 at 05:00PM PDT
More editing options
For info email: Landblaze51@yahoo.com
Welcome to South Valley Wolfpack Football
South Valley Wolfpack consists of Ashland - Talent - Phoenix Area Kids. Participant must attend school in Ashland or Talent or Phoenix Area. Public, private or home school - each are welcome.
Must provide copy of current (2018-2019) sports physical at registration.
Must provide copy of 2018-2019, 4th quarter report card (when available) & proof of school enrollment if attending school different from previous year.
If player changes schools after registration, League MUST be notified Immediately.
REGISTRATION:
Info coming soon
All ASSOCIATIONS - PARTICIPANTS MUST REGISTER IN ASSOCIATION THEY ATTEND SCHOOL. SEE BELOW FOR ASSOCIATION CONTACTS.
See "RVPW DIVISIONS" for age and weight requirements.
CONTACT:
Ashland/Phoenix/Talent – Mike Young Landblaze51@yahoo.com
CHAMPIONSHIPS:
Three RVPW Championships: 2000, 2002, 2009
State Championship: 2003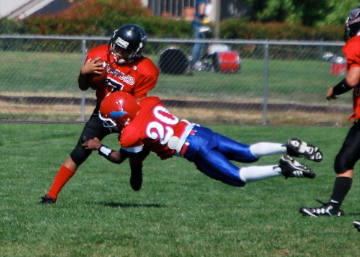 Comments
There are no comments for this announcement.