Announcement
Developmental Youth Football
Posted by
Coach Mo
on Jun 06 2017 at 05:00PM PDT
More editing options
Our program serves local Schools and neighboring communites . Starting at age 5, we accept all skill levels welcome and everyone plays. The leagues are "kid" driven with instruction in basic athletic and life skills. Our goal is to provide within each athlete, parents and coaches a spiritual outlet through sports and to develop within each athlete, strong values and attitudes....and everyone plays!
Using newly developed techniques used by USA Football, we help , peice by peice and through careful development a model of youth football withing each player, depending on his or her ability.
Link: https://www.youtube.com/watch?v=zk6mq35gdrU&feature=youtu.be
Designed to develop football players who are relatively new to tackle football or lack the resources to compete, possess or wish to develop skills necessary to play at the highest level of high school and eventually collegiate football. On the field, our staff will instruct players and conduct a wide variety of drills aimed at perfecting their individual technique, physical and spiritual fitness.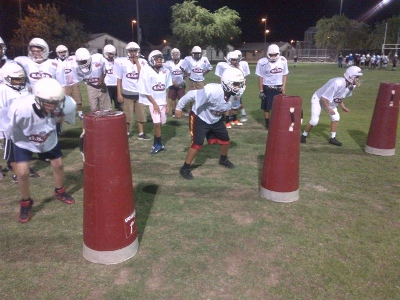 Comments
There are no comments for this announcement.