Announcement
SOUTH CENTRAL SWEEPS PUBLIC SCHOOL LEAGUE CHAMPIONSIP SERIES
Posted by
Coach Mo
on Dec 11 2015 at 04:00PM PST
More editing options
COUGARS WIN 3RD CITY CHAMPIONSHIP
SOUTH CENTRAL 15, MURPHY 8
Behind a dominant line that includes All-PSL candidates Daniel Saiz, Matthew Caldwell and Anthony Mendoza, Quarterback Destination Salazar, William Muldrow and Micheal Ramirez rolled up yardage on the ground as the Cougar finish the PSL unbeaten.
In true Cougar form, the game was close and the running game was as usual key.
South, made up mostly of players from the Roosevelt district and other westside schools, struck first as Salazar went yard on 75 yard run in the opening drive.  After the Salazar run, it was pretty much a stalemate as both teams boxed it out.  Murphy went ahead on a TD run after an 80 yard drive and held on until the Cougars took possesion with 6 munutes left.
Then Muldrow, Salazar and Ramirez went to work, systematically picking up key first downs and capping off with a Ramirez touchdown.
Murphy advanced by beating the Phoenix Elementary district based Grizzlies in a close one.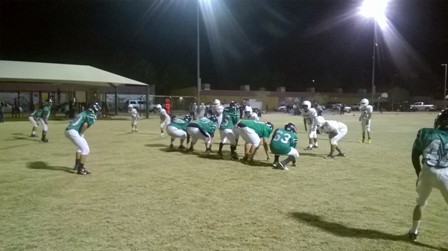 Comments
There are no comments for this announcement.