NEW PATRIOT LEAGUE WEBSITE
The new Patriot League website is now live!
Go to www.patriotbaseball.leag1.com to REGISTER ONLINE
and to view new information and updates for the league.
______________________________________________________________________________________
---
SHIRA FIELD CLOSED THROUGH DECEMBER FOR RENOVATION
Due to poor playing conditions, the Fall Ball games scheduled for Sunday, November 24th are cancelled. Thank you to all the players who participated in Fall Ball. Also, thank you to our Fall Ball managers, John Carroll, Jaime Paredes and Armando Salazar for all of their time and efforts in developing our players and getting them ready for the spring season. Hopefully everyone had a great experience.
Also, Shira Field will be completely shut down during the month of December for minor renovations. Please spread the word that no one is to be on the field. If you are interested in helping to work on the field, please let us know by sending an email to zebratales@cox.net.
ON-SITE REGISTRATION FOR THE 2014 SEASON WILL BE HELD ON SATURDAY, JANUARY 4TH AND 11TH, FROM 9:00 A.M. TIL 12:00 P.M. PLEASE CHECK BACK SOON FOR MORE DETAILED INFORMATION, INCLUDING ONLINE REGISTRATION.
Congratulations to the 2013 Patriot Mission Trails Junior All-Star Team for winning the District 33 and Section 6 flags! After losing their very first game in the District 33 tournament, the team fought back and won their next 10 games to capture both flags. They then advanced to play four games in the Southern California Juniors South Sub-Division Tournament in Running Springs, California, before finally being eliminated. The Patriot League congratulates the Mission Trails team for playing hard, while also demonstrating respect and good sportsmanship towards the umpires, fellow players, their manager, coaches and fans throughout all the tournaments!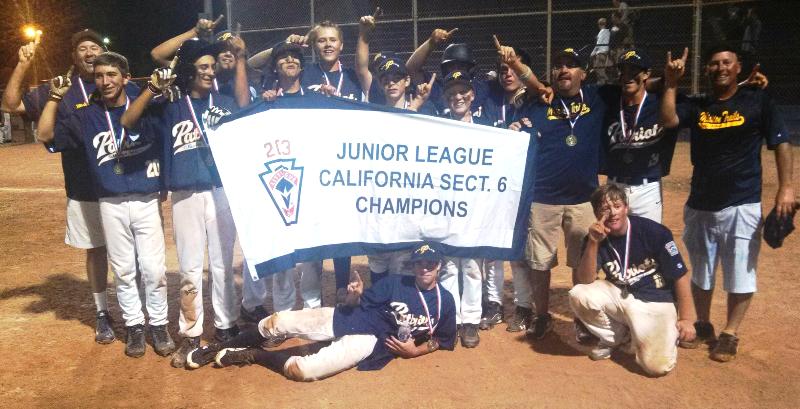 Congratulations to the 2013 Patriot Senior All-Star Team for also winning the District 33 flag! The team won their first two games in the D33 Senior Tournament to advance to the next level of play in the South Sub-Division Tournament. Although the team played hard and provided excitement for their fans, they lost the next two games which eliminated them from tournament play. The Patriot League congratulates these fine young men for not only winning the district flag, but for demonstrating superb sportsmanlike qualities throughout the tournament as well!