Announcement
REBELS CHEERING! GO REBELS!
More editing options
CALLING ALL CHEERLEADERS!!!!!
NO EXPERIENCE IS NECESSARY!!!!
Cheerleaders must be between ages 5-12
All cheerleaders are required to provide a wallet size photo and a COPY of her birth certificate. This is mandatory.
Practices are held at Pole Green Park starting August 7, 2018.
During the summer, practices are Tuesday, Wednesday, and Thursdays from 6 pm to 7 pm. Once school starts the practice schedule will change, practices will be held Tuesdays and Thursdays from 6 pm to 7 pm.
Uniforms:
PROVIDED: Vest, Skirt, and a hair bow will be provided.
TO BE PURCHASED (all items listed will be purchased through a third party as they are team/color specific): Turtleneck, lollies, warm-up suit (includes cheerleaders first and last name) socks, cheer sneakers, and pompoms.
***please see a board member with any questions CLICK HERE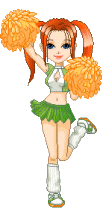 Comments
There are no comments for this announcement.