Announcement
Welcome to Braden River Little League! Please visit out new site at www.bradenriverlittleleague.com
More editing options
Please visit out new site at www.bradenriverlittleleague.com
Description
Little League Baseball Inc I Manatee County I Bradenton, Florida I District 26
Braden River Little League has a rich tradition of promoting sound, fundamental, winning baseball. Since the leagues inception in 1991, our league has produced many winning all-star teams. That is attibuted to the wonderful volunteers that we have!
Little League Mission Statement
Little League Baseball, Incorporated is a non-profit organization whose mission is to "to promote, develop, supervise, and voluntarily assist in all lawful ways, the interest of those who will participate in Little League Baseball and Softball."
Through proper guidance and exemplary leadership, the Little League program assists youth in developing the qualities of citizenship, discipline, teamwork and physical well-being. By espousing the virtues of character, courage and loyalty, the Little League Baseball and Softball program is designed to develop superior citizens rather than superior athletes.
Mailing Address: P.O. Box 20845 Bradenton, FL 34202
Physical Address: 5201 51st St. East, Bradenton FL 34203
Braden River Little League is 100% run by volunteers. We appreciate everyone that is involved in making Braden River the best league out there! We are always looking for managers, coaches, team parents, scorekeepers, umpires, concession and board members. If you are interested in any of these positions please contact the BRLL at 941-677-2255/BALL.
Team Sponsors, Sign Sponsors, Website Ads and Field Sponsors are a great way to give back to the community while advertising your business. If you or someone you know is interested in a sponsorship opportunity please contact the BRLL Funraising & Sponsorship Manager at 941-216-5627..
Stay informed about the latest league information, registration dates and more!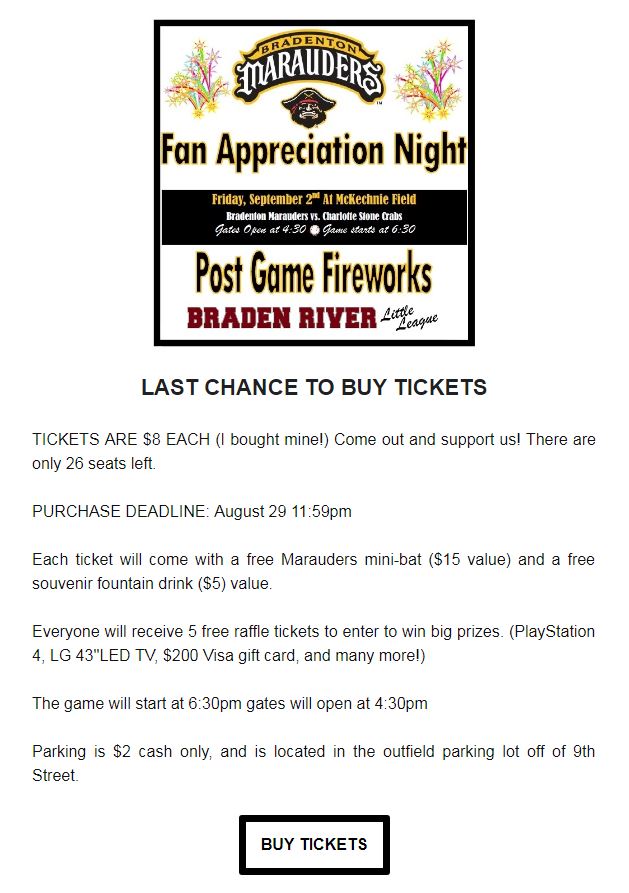 Comments
There are no comments for this announcement.