Announcement
2016 Toronto Gators Legends Roster
More editing options
The Toronto Gator Legends are pleased to announce their 2016 roster and
have set their sights on winning an illusive ISC Legends World Championship
in Quad Cities, next August. The Gators have advanced to the finals in each
of the past two seasons but lost a heart breaking extra innings game to
Cobourg Force in 2014 and ran out of gas with injuries in 2015, losing to
rival Durham Bulls. Owner Jack Fireman does not like to lose and after a
number of his veterans decided to retire has revamped a lineup he is
confident can get him back on top.
Five members of Fireman's lineup will not be back in 2016 and those losses
go far beyond the playing field. Pitcher Mark Bendahan was an original
Gator back in 1992 with the York Gators and was a member of the two ISC
World Championship Toronto teams in 1993 and 1995. " Mark was one of the
guys who got me into big time fastball, he is one of my closest friends and
has been an inspiration to our program for over 20 years", said Fireman.
Catcher Chuck Hendricks has also decided to hang up his "tools of
ignorance" and will be missed as a player, a coach and the inspirational
heart of the Gators. " Chuck is the essence of what it is to be a Gator,"
said Fireman, " his knowledge of the game is second only to his heart and
the love of wearing the Gator uniform." Carmen Pernarella, has fallen
victim to injuries over the past few seasons and while he did not play as a
Toronto Gator in the 90's he was an original York Gator and was a
tremendous leader in the gold medal run for the Legends at the 2013 World
Masters Games in Torino, Italy. Lorne Swartz joined the Gators in 2015 but
has a long history with Fireman's Maccabian program, winning numerous gold
medals in fastball competition and acting as Canada's 2009 flag bearer in
Israel. Swartz is retiring for business and family reasons. Steve Price has
decided to ply his trade elsewhere next season.
Fireman and his management team have been working hard to find the right
pieces to fill holes from 2015 and are pleased to announce the new look
roster. Ray Tilley, a Canadian and ISF Hall of Fame player and former
Canada National Team coach will step into the field manager's role this
year after returning to the Gators as a coach in 2015. He will be assisted
by legendary Gator third base coach Bob Richardson, and Larry Lynch, who
will continue to act as the team's General Manager as well. Dave Birnie has
joined the Gators as a "Special Advisor" and has been invaluable to Fireman
in recruiting players for next season. Drew Groombridge is back as the
team's trainer after a winter behind the bench with the Georgetown Raiders
of the Ontario Junior Hockey League.
The newest Gators are pitcher Shawn Sampson, a stalwart hard thrower who
has dominated ISC Legends for many years and will certainly play a
formidable role from the Gators pitching stable. ISC Hall of Fame pitcher
and legendary ace of the Farm Tavern and the New Zealand Black Sox, Paul
Algar will toe the rubber in Quad Cities for the Gators. 'Alfie' has won
every major tournament in the world and can best be described as one of the
true warriors of the game."He has the heart of a lion and a smile as big as
the sky, the word quit does not exist in his vocabulary. " said Fireman.
Offensively, the Gators have added a trio of veteran run igniters in pesky
Patty Brennan, power hitting Paul Foucault and the timeless hitting
machine, Kelly Wenstrom. All three of these versatile guys are likely to
find a spot in the Gator infield and are able to play multiple defensive
positions. Frankie Perez, a power hitter for nearly two decades and field
manager of the Dominican National Team will bring that hitting skill to the
DH role in Quad Cities.
" We thought it important to add guys who can play multiple roles," said
Fireman, " we want to make it tough for Tills and the coaching staff to
make a lineup.We all know how tough it is to play 6 or 7 games in 3 days at
the World's, we want to have every position covered twice over, versatility
will be the key to the Gators."
The Gators have certainly made some adjustments but the heart of these
Legends is in the players who have " brought them to the dance". The
legendary pitcher Darren Zack is still the face of fastball, Brian Paton
still anchors the outfield, Adam Smith the greatest second baseman of his
era still plays with reckless abandoned and Terry Challis is still one of
the great clutch hitters of the game; all are members of the ISC Hall of
Fame along with Fireman and Lynch. Pitcher Mike Crawford and catcher John
Kemp will be honoured this summer with induction into the Ontario Master"s
Fastball Hall of Fame. Original Gators Rob Watson, Roddy Wetherell and
pitching stud Mike Sedore will be counted on to provide both offense and
defense in their starting roles. Power hitting first baseman Dave Hoffman,
DH Alan Taylor, catcher -third baseman Randy Peck and versatile outfielder
Tom Watson will give the Gators strength from the top to the bottom of the
order.
The Gators will compete in tournaments in Cobourg, St.Clements OASA
Master's, and the ISC World Legends Tournament in 2016. Watch Al's Fastball
for more news and schedule announcements over the winter months.
Larry Lynch
2016 Toronto Gators Legends Roster
Adam Smith
Darren Zack
Mike Sedore
Mike Crawford
Paul Algar
Shawn Samson
Dave Hoffman
Rob Watson
Tom Watson
Randy Peck
John Kemp
Terry Challis
Brian Paton
Roddy Wetherell
Al Taylor
Paul Foucault Sr.
Kelly Wenstrom
Pat Brennan
Frank Perez
Terry Wiebe
Larry Lynch - GM
Ray Tilley – Head Coach
Bob Richardson – Coach
Jack Fireman – Sponsor
Drew Groombridge - Trainer
Dave Birnie – Special Advisor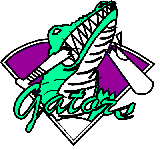 Comments
There are no comments for this announcement.