Announcement
2017 CHALLENGER SOCCER CAMP IS READY FOR REGISTRATIONS
More editing options
2017 CHALLENGER SOCCER CAMP IS READY FOR REGISTRATIONS
BUILD CONFIDENCE AND SKILLS TO BECOME A GREAT PLAYER!
WANT TO HOST A COACH?? Get more out of Soccer Camp Week by Hosting a Coach.. Get with Jeff Stiffler.
London Soccer is Very excited to announce the 7th annual British Soccer Camp this summer the week of June 26th thru June 30th.
Please set these dates aside for the Challenger Soccer Camp. This year's camp times have been modified to encourage participation and allow for evenings to be freed up for other activities.
Camp will start @ 9am and will finish up @ 4:30 daily.
The British Soccer Camp will be held at the St Patrick Soccer Complex in the back of the school. This Soccer Camp is for soccer athletes aged 6 – 18 yrs old, does not matter where you live.
Camp times are: Half Day camp- 9a-noon or 1:30p to 4:30p at $144 for the week for either session.
Full day camp- 9a-noon; 1:30p-4:30p @ $197 for the week. We will stay and eat lunch in the back (bring a bagged lunch).
All 9-18 yr old players will be put in Advanced programs (unless requested for basic). All 6-9 yr olds have the option of Advanced or Basic instruction.
Five days of training up to 30 Hours for the week at a great price and here in London.
The goal for the British Soccer Camp is focus on game-related techniques, tactical, development. Creating World Cup teams for match play. Focus is on developing Agility, Balance, and Coordination. Drills for learning to Turn, Fake and Beat your opponents. Skills in Juggling, Touch & Controlling the ball and many other skills to help you build Confidence and become a Stronger player.
Each Camper will receive a Challenger T-shirt and Soccer Ball.
Each Camper who registers Online before MAY 12th will receive a FREE Challenger British Soccer Jersey.
Please visit www.londonsoccer.org or www.facebook.com/Londonsoccer for information and Registration link or call Jeff Stiffler at 740-852-5540.
Registration deadline is June 16th!!.
There is also the possibility for an Advanced Goalie training program if there is an interest for Middle/High School players who want Goalie training for that competitive edge.( please call Jeff Stiffler if you are interested in this program)
Jeff Stiffler
London Area Soccer Youth Soccer Development 740-852-5540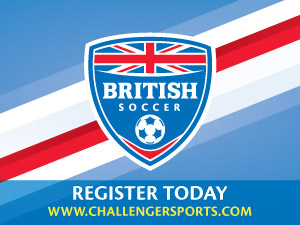 Comments
There are no comments for this announcement.