Announcement
The 2018 Michael Buczek Little League Season is now open!
More editing options
2018 SEASON
REGISTRATION
It's Time To PLAY BALL!!! Our 2018 Season Online Registration Is Now OPEN!
Please follow the link below to register your child online:
(Do not click on the registration button above.)
https://police-officer-michael-buczek-little-league.sportngin.com/register/form/562935074
In Person at The 34 Precinct at W. 183 Street & Broadway - Registration Dates to be Posted Soon
Boys & Girls Ages 3-5 Years Old (TBall) - $125
Boys & Girls Ages 6-12 Years Old - $150
A Discount is Available for Siblings.
Copy of Birth Certificates needed.
SCHEDULE
August 12, 2016 CBS SPORTS aired a half hour special "League of Hope" on the Police Officer Michael J. Buczek Little on Sunday, August 14 at 9:00pm. Click here to see the trailer: http://www.cbssports.com/video/player/cbssportsnetwork/741818435972
Go to cbssportsnetwork.com and type your zip code into the channel finder.
Note: this is CBS SPORTS channel
August 7, 2016
Thank you ESPN SportsCenter for this moving testament to the legacy of the Police Officer Michael J. Buczek Little League in Washington Heights.
Watch the ESPN video here---> http://www.espn.com/video/clip?id=17233224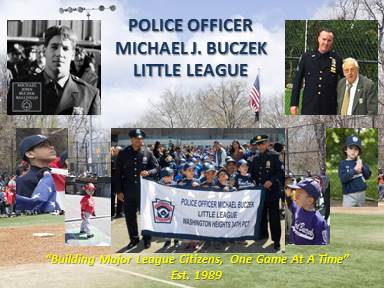 Comments
There are no comments for this announcement.