2018 SEASON
REGISTRATION
It's Time To PLAY BALL!!! Our 2018 Season Online Registration Is Now OPEN!
Please follow the link below to register your child online:
(Do not click on the registration button above.)
https://police-officer-michael-buczek-little-league.sportngin.com/register/form/562935074
In Person at The 34 Precinct at W. 183 Street & Broadway - Registration Dates to be Posted Soon
Boys & Girls Ages 3-5 Years Old (TBall) - $125
Boys & Girls Ages 6-12 Years Old - $150
A Discount is Available for Siblings.
Copy of Birth Certificates needed.
SCHEDULE
August 12, 2016 CBS SPORTS aired a half hour special "League of Hope" on the Police Officer Michael J. Buczek Little on Sunday, August 14 at 9:00pm. Click here to see the trailer: http://www.cbssports.com/video/player/cbssportsnetwork/741818435972
Go to cbssportsnetwork.com and type your zip code into the channel finder.
Note: this is CBS SPORTS channel
August 7, 2016
Thank you ESPN SportsCenter for this moving testament to the legacy of the Police Officer Michael J. Buczek Little League in Washington Heights.
Watch the ESPN video here---> http://www.espn.com/video/clip?id=17233224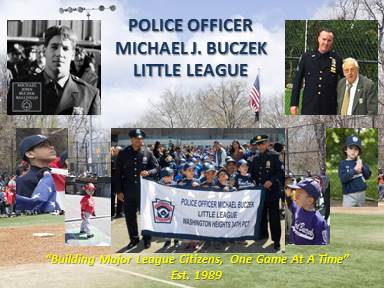 About 25 Police Officer Michael J. Buczek Little Leaguers, parents, Coach Johnny Moynihan and Mary jo Buczek boarded a bus in Washington Heights eaarly on Saturday, August 20. Why? They represented our league at the Little League International World Series in Williamsport, PA and accepted the prestigious 2016 Carl E. Stotz Community Award. It was an amazing trip and great honor for everyone!
Here are links to coverage- please copy and paste the links in your browser as this site does not allow multiple hyperlinks.
MLB.com
http://m.mlb.com/news/article/196701908/new-york-little-league-honors-nypd/
Little League
http://www.llbws.org/media/news/Michael_Buczek_Little_League_Caps_Off_Dream_Season_with_Trip_to_Williamsport.htm
Penn Live.com
http://www.pennlive.com/little-league-world-series/2016/08/new_york_city_little_league_ci.html
We are honored and humbled that out of of 7,500 Little Leagues across the WORLD, OUR league has won the the Carl E. Stotz Little League International Community Award! We proudly share this honor with the wonderful children and parents of Washington Heights, our amazing volunteer coaches and generous sponsors, our friends and family, the NYPD 34th Police Precinct., and the NYPD. We are certain that Police Officer Michael J. Buczek, and Mr. B.are proudly smiling today! (Story and video in link.)
http://www.littleleague.org/media/llnewsarchive/2016/May-August/NYPD-officer-michael-buczek-little-league-honored-with-stotz-award.htm
...and congratulations on winning the Sloan Public Service award, the highest honor bestowed on NYC civil servants. We are immensely grateful you chose to share your award with the Police Officer Michael J. Buczek Foundation!