Announcement
NEW USA BASEBALL BAT STANDARD - EFFECTIVE JANUARY 1, 2018
More editing options
USA BASEBALL BAT STANDARD
Effective January 1, 2018, all Little League Baseball programs will be governed under one umbrella bat standard of USA Baseball (i.e. "USA Bat").
That means if you're 14 and under, are currently swinging a youth bat, and/or have plans to swing a youth bat in the future, this affects you! Here's what you need to know:
CAN I STILL USE MY CURRENT BAT?
All current league-approved bats can be used through 12.31.17. After that, you must use a bat with a USA Bat compliance mark. Bats regulated by the new USA Bat standard will be available to purchase 09.01.17.
WHAT THE NEW STANDARD WILL CHANGE AND WHY
The new USA Bat standard will create wood-like performance in youth baseball bats in order to make the game more uniform at the youth level and ensure the long-term integrity of the game. Similar to the BBCOR standard implemented in 2011, USA Bat regulates how much trampoline effect the barrel of a bat has on a ball. Unlike the -3 length-to-weight ratio restriction for BBCOR bats, USA Bat will not have a drop weight limit. Players within the affected organizations will also now be able to use a 2 1/4" or 2 5/8" barrel bat as long as it carries the USA Bat compliance mark.
WHAT TO EXPECT FROM A NEW BAT
New youth baseball bats under this standard will have less trampoline and consequently less ball exit speed. Balls fisted or in off the hands are much less likely to carry over the infield for hits. It will be more difficult to hit the ball far and with high velocity, but far from impossible.
HOW PLAYERS SHOULD PREPARE
Learn proper hitting mechanics! Be coachable and spend more time in the cage. Also, these bats are designed to perform more like wood, so a good way to prepare is by swinging a wood bat. Wood bats have smaller sweet spots, and to hit them effectively you must be more precise with your swing. They're also heavier, so every time you swing them, you'll get stronger. A more precise swing combined with a stronger swing can help you make up that 10% in batted ball speed you lost under the USA Bat standard, so get cracking!
WHAT ABOUT TEE BALL BATS?
Tee ball bats are not required to undergo lab testing to receive approval under the USA Bat program. However, to be approved for play, tee ball bats must carry the USA Baseball mark accompanied by the following text: "Only For Use With Approved Tee Ball Bats." If you already have a tee ball bat you would like to continue using, all you have to do is purchase a USA Bat sticker directly from the USABB and place it on your bat. Of course, tee ball bats manufactured after the new rule will already include the USA Bat Baseball mark.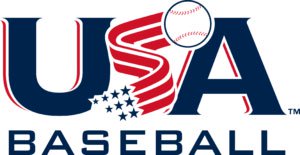 Comments
There are no comments for this announcement.