Announcement
Florida Registration
More editing options
www.sportssignup.com/Chicago-Blitz-Youth-Football-and-Cheerleading-Online-Registration.start
Click on the above link to register for the Florida trip in November. You do not have to pay the full amount you may make a deposit, make payments towards the balance or pay the full balance. The system will accept the following forms of payment: checks, credit and debit cards.
National Youth Championships
Daytona Beach, Florida
November 21-27, 2010
The Chicago Blitz will be participating in the 2010 National Youth Football Championships. Information pertaining to the trip is included below.
The Cost of the trip is:
4 people to a room $450pp
3 people to a room $510pp
2 people to a room $620pp
1 person in a room $955pp
The package includes:
Ø Hotel accommodations for 6 days-5 nights at the Hilton Resort
Ø Round trip Coach transportation
Ø Admission to all NYFC football games and cheer competition
Ø Admission to Universal Studios
If you have any additional questions or would like to join the planning committee for the NYFC please feel free to contact: Robert May (773) 544-4342.
If you need assistance with the registration process, contact: Robert May from Chicago Blitz Youth Football and Cheerleading at robertmay35@aol.com or 773-544-4342.
All aboard for a great time
Go Blitz!!!!!!!!!!!!!!!!!!!!!!!!!!!!!!!!!!!!!!!!!!!!!!!!!!!!!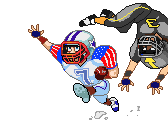 Comments
There are no comments for this announcement.