Announcement
Posted by
Jon McUne
on May 04 2019 at 05:00PM PDT
More editing options
Welcome to Rogue Valley Youth Football
YOUTH FOOTBALL HAS NEVER BEEN AS SAFE AS IT IS TODAY.......
All Rogue Valley Youth Football Coaches, assistant Coaches and Head Coaches, are required to have the same league approved - Heads-Up Tackle Football Coaching Certification that is required of our high school coaches. In fact, we were the first in the area to implement this coaching certification program.
The entire football community is changing the approach to teaching youth football. Our number one concern will always be the safety of our kids.
KNOW YOUR ROLE........
Are you a Coach Today? Are you a Spectator Today? Are you an Official Today? Are you a Player Today?
You can be only one of these at your event.
Let the Coaches Coach, Let the Officials Officiate, Allow the Kids to PLAY!
It is almost registration time of the year. See your local association for dates and times.
Attention: Sports Physicals must be turned in to league and be in coaches possession prior to participation. Sports physicals are valid for two seasons just like school sports so a sports physical dated 2018 or 2019 is valid.
Rogue Valley Youth Football consists of these associations. South Valley WolfPack (Ashland, Phoenix, Talent), Medford, Central Point, Upper Rogue, Grants Pass/Rogue River and Surrounding Area. Participants must register with association in area that they attend school. Click on your area tab on upper left of this screen for further information.
Youth Football Safety Facts - Parents – Did You Know???
*Organized youth football, like Pop Warner, has 12% fewer injuries per capita than does organized soccer in the same age range? 2
*Organized youth football has 50% fewer injuries than does bicycle riding in the same age range? 2
*Organized youth football has 74% fewer injuries than does skateboarding in the same age range? 2
*Not only is the injury rate lower in youth football than these activities, but also there is "an absence of catastrophic head and neck injuries found at higher levels (of football)"? 1
Why is Youth Football so relatively safe? The answers are simple:
1. Equipment: All league players wear first class protective gear, including helmets and shoulder pads. Other sports like soccer, have frequent player contact incidents, but without the benefit of protective equipment.
2. Age/Weight Restrictions: All league players are divided into specific age and weight divisions, which prevents dramatic differences between players who may collide during play. Moreover, the velocity at which younger players may collide is dramatically less than that which their older counterparts may experience. The combination of less speed and less weight than at higher levels of play, tend to reduce collisions in youth football to a very small factor, in terms of injuries.
1 "Injuries in Youth Football", Institute of Sports Medicine and Athletic Trauma, Lenox Hill Hospital. Pediatrics Magazine. 2. U.S. Consumer Product Safety Commission. NEISS
Rogue Valley Youth Football Age and Weight Divisions Fall 2019
Grade 2 and 3 100 lbs Max Start of Season Weight
Grade 4 120 lbs Max Start of Season Weight
Grade 5 140 lbs Max Start of Season Weight
Grade 6 Un-Limited/Open Weight and 5th Graders over 141 lbs.
First league approved possible start of practice for 2019 season is Aug. 12th
Click on tab in upper left page for contact information for your area.
All site postings must be approved by league commissioner prior to listing.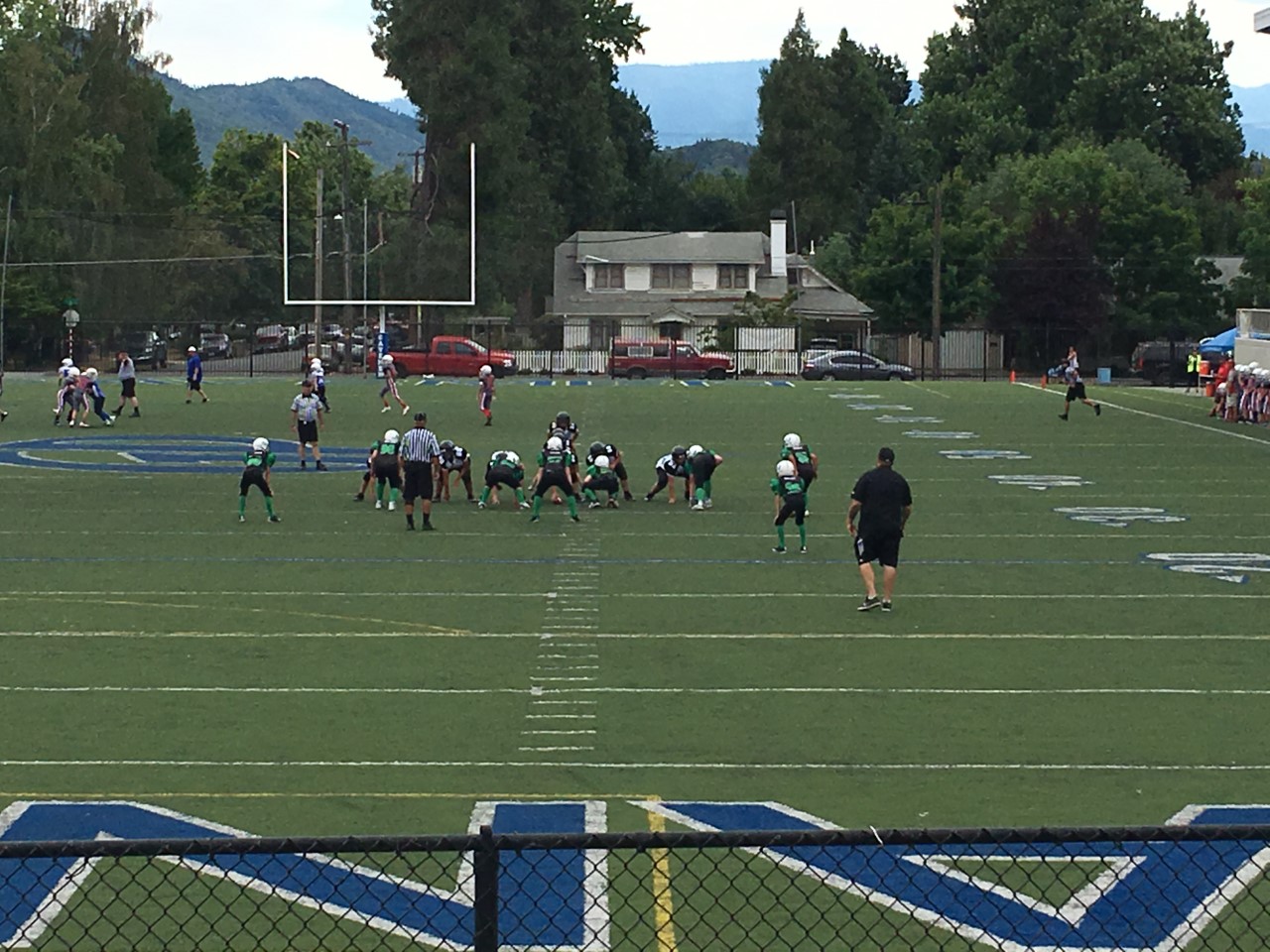 Comments
There are no comments for this announcement.