Announcement
Welcome to Montague Little league
Posted by
Terry Snyder
on May 04 2019 at 05:00PM PDT in Spring 2018
More editing options
Montague Little League
P.O Box 1306
Montague, NJ 07827
The schedules are posted to this website:
https://www.leaguelineup.com/schedules.asp?url=nj20north
Our 2019 On-Line Registration is now Closed !!!
Important read before you purchase a New Bat!
USABat Standard Effective January 1, 2018 Beginning with the 2018 season, non-wood and laminated baseball bats used in the Little League Baseball (Majors) and below, Intermediate (50/70) Division, and Junior League Baseball divisions, as well as the Little League Challenger Divisions, shall bear the USA Baseball logo signifying that the bat meets the USABat - USA Baseball's Youth Bat Performance Standard. All BPF - 1.15 bats will be prohibited beginning with the 2018 season. Additionally, starting in 2018, the bat diameter shall not exceed 2-5/8 inches for these divisions of play.
Additional information is available at LittleLeague.org/BatInfo.
Montague Little Leagues policy is, We want every child that wants to play baseball to play. We never let the cost stop any child from participating. Talk to a Board member if you need information about this.
We are a non-profit organization, Dedicated to providing a safe and friendly atmosphere for children who want to play baseball in theTownship of Montague New Jersey. Our league officially started January 2011 and consists of approximately 100 + children ranging in age from 4 to 15.
** Montague Little League is pleased to announce online registration is Now Closed Register by March 1st. to avoid late fees Check out our new page "Questions you may have"
Just go to the "Register now" Button
Our Little League is 100% funded by volunteers, sponsorships, and donations. Monies raised from registrations and sponsorships and fundraisers will go to support the teams. This includes paying for our"charter", and insurance, purchasing uniforms and equipment, paying umpires for "home" games and field and equipment upkeep.
Montague Little League is part of the "District 20" LittleLeague, there are approximately fifteen Little Leagues within this district we will still be playing against the same teams and towns we have in the past that are also part of the Northern"Inter-district" of District 20.
Registration forms, medical release forms, and volunteer forms and other info Including our complete ASAP Safety Manual are available in our 'handouts" section.
We have our regular Little League Board meetings the first Tuesday of every month at the Montague Township Building (lower level) all are welcomed and encouraged to attend.
Age Chart Requirements See chart for 2019 on our "handouts" page
Montague Little League N.J. New Jersey District 20


Promote Your Page Too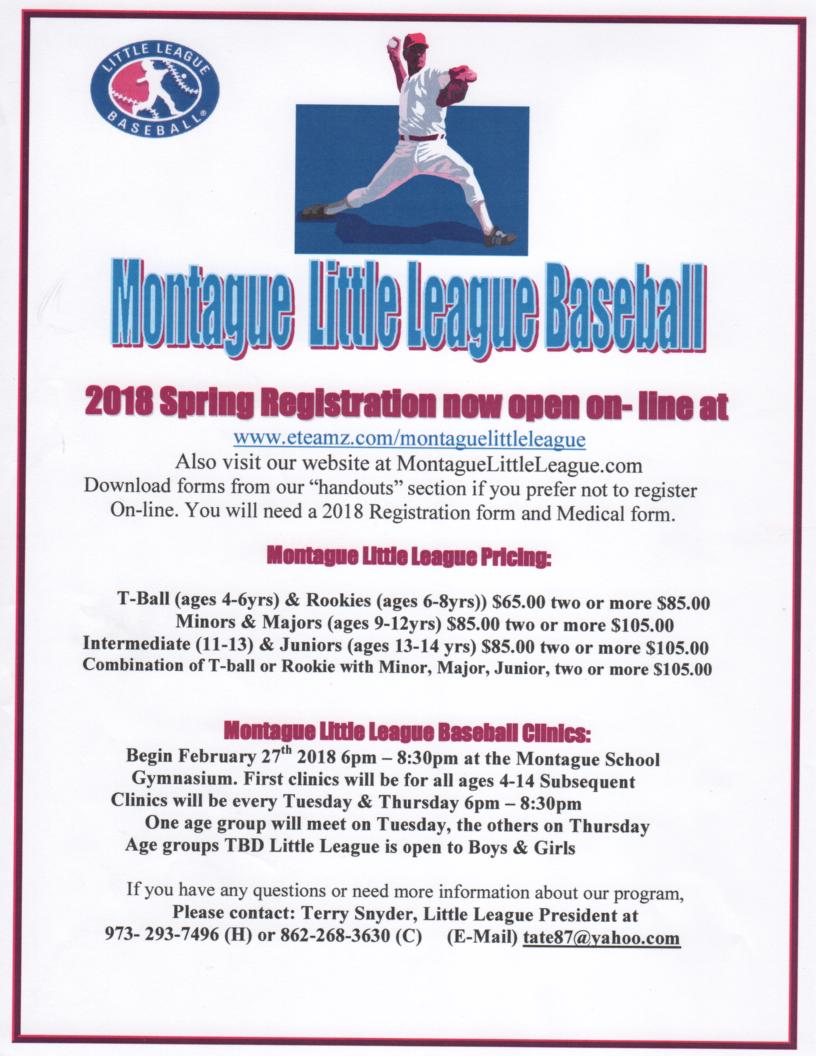 Comments
There are no comments for this announcement.